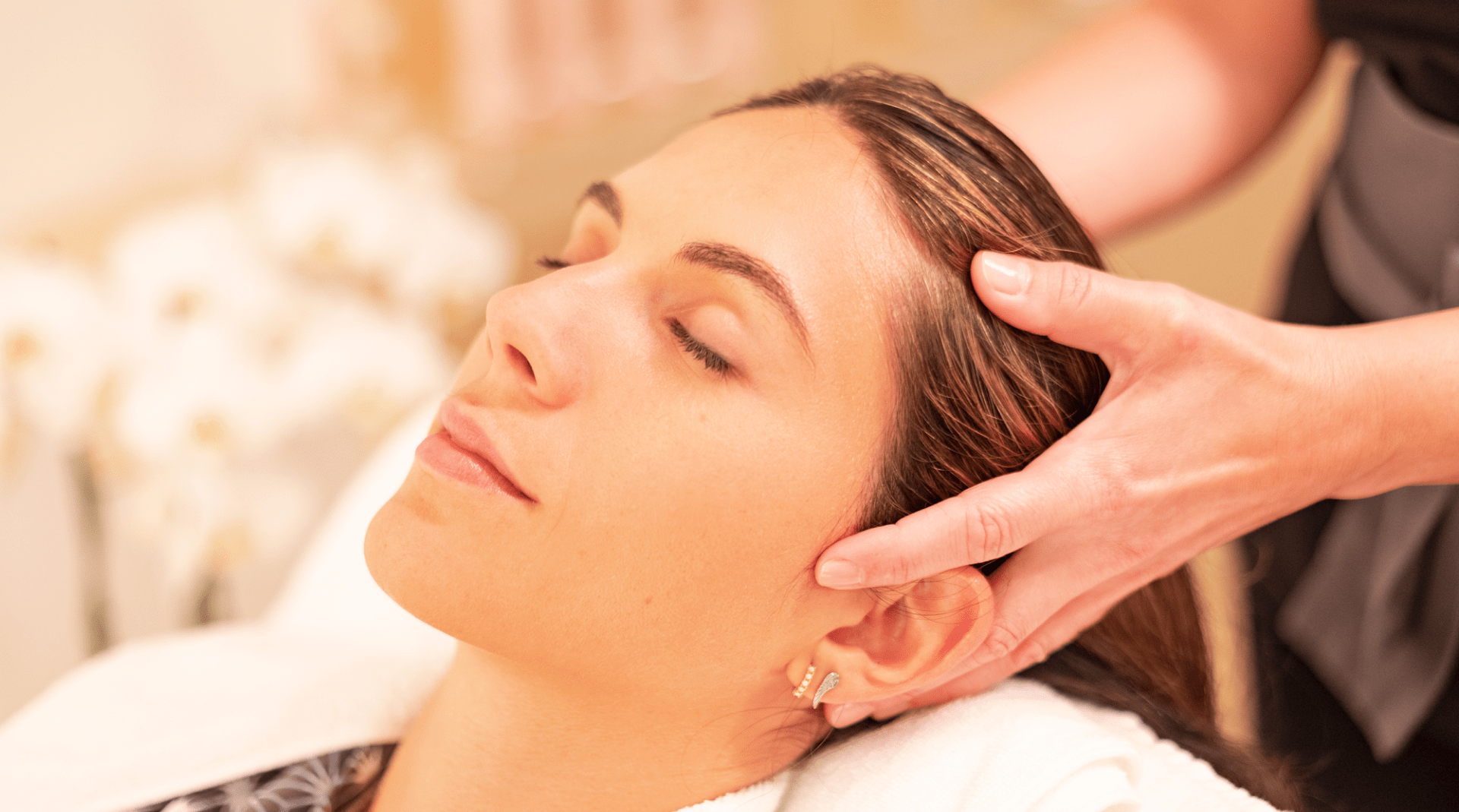 Oftentimes, finding time to take care of oneself is complicated. These days, our frenzied pace of life, incessant changes and wanting to do everything can be quite exhausting. It's time to stop: listen to your body, dedicate time to yourself, pamper your skin and hair and indulge in an at-home spa.  
1. Transform your home into a wellness area  
Choose one day of the week to dedicate to your personal care and delve into a facial and haircare wellness moment.  
Begin your at-home spa experience by choosing a peaceful space and personalize its ambience with relaxing scents, music and soft lighting that will transpose you to a wellness center.  
It's time to take care of yourself, pamper the skin of your face and body, as well as your hair and scalp to restore their lost luminosity and hydration.  
2. Choose a quality self-care ritual  
At Miriam Quevedo, we believe that everyone should know how to care for oneself and that those rituals for our skin and hair must be personalized to be truly effective.  
Thanks to the exclusive Customer Shine service, you can have a virtual consultation with one of our Hair Therapists who will recommend the most suitable products for your needs and expectations, creating a unique beauty routine for you that's completely personalized.  
With our treasures we want you to enjoy special moments wrapped in unique fragrances and enveloping and pleasant textures that will make you feel better.  
Furthermore, they are all good for both you and the planet: all our products are sulfate-free, have no toxic ingredients and our packaging is recyclable or made of recycled materials.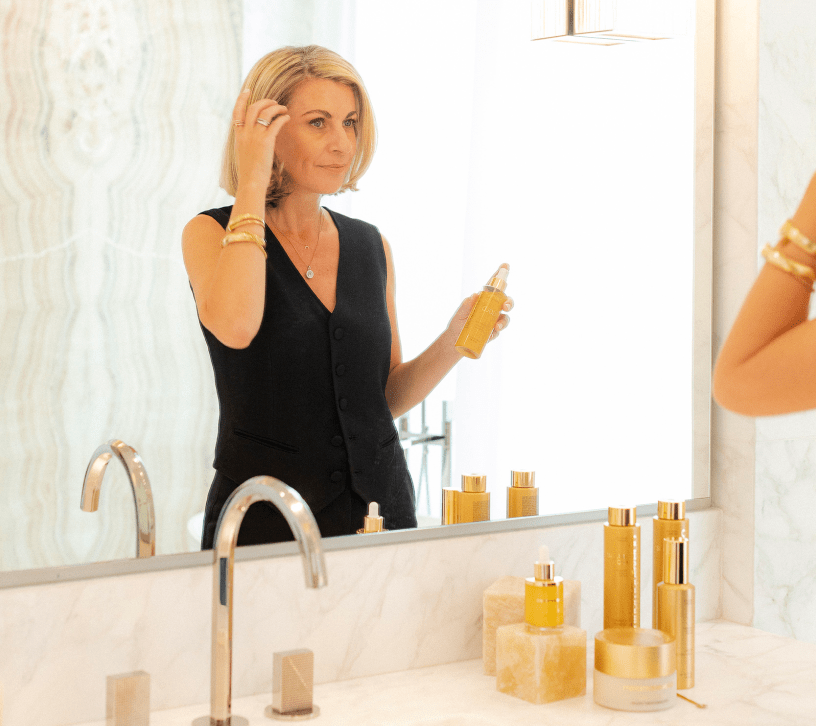 3. Find an activity you like 
Do you often stay at home without any plans and end up sitting on the sofa all afternoon? No more! New year, new hobbies.  
Look for an activity that intrigues you, stimulates your creativity and, first and foremost, disconnects you from screens' blue light radiation that's unhealthy for your hair and skin: it causes premature aging. 
4. Take care of yourself from the inside, too  
Hydrating oneself is essential to prevent the deterioration of our skin and scalp! Not only must we care for our skin on the outside, but must also drink water during the entire day to keep it young and hydrated and also stick to a nutritious diet.  
Also, don't forget to sleep between 7 and 8 hours each day to prevent the signs of aging and fatigue, like loss of firmness, wrinkles and puffy eyes. Did you know that your skin and hair regenerate themselves while you sleep? Don't underestimate the importance and benefits of restful sleep. 
5. Live a unique experience at HairSpa by Miriam Quevedo 
Think about the most luxurious facial spa that exists. Well, our HairSpa by Miriam Quevedo at the emblematic Mandarin Oriental Hotel in Barcelona is the same thing, but for your hair. 
Exclusive and unique in the world, this is the perfect space for relaxing in depth, receiving advice and caring for your hair and scalp like they deserve.  
The most luxurious rituals for haircare rejuvenation come together here: combining the precious formulas by Miriam Quevedo with state-of-the-art technology, adapted to your hair's unique needs to obtain exceptional and immediate results.  
Transform your hair in an inimitable way while indulging in an experience that will transpose you to a state of profound well-being at a peaceful and tranquil oasis at the heart of Paseo de Gracia.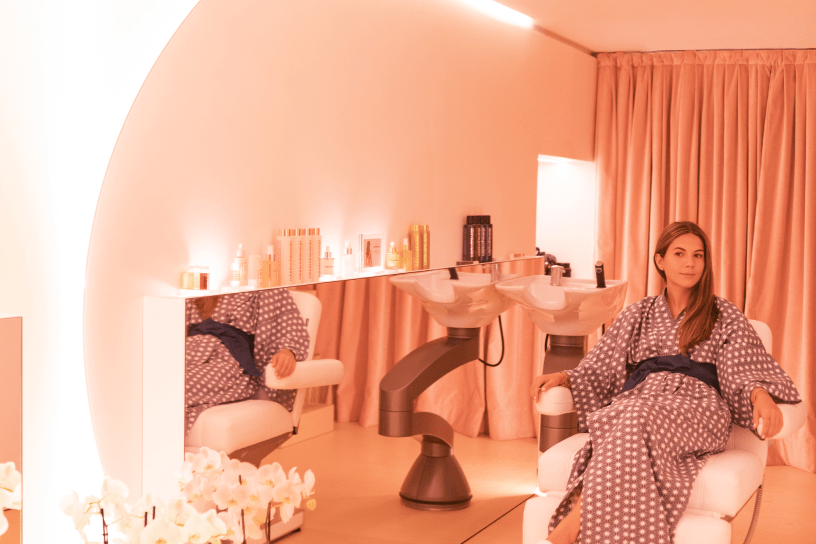 Let yourself be captivated by the extraordinary art of taking care of oneself and treat yourself to quality time. Your skin and hair will thank you.  
Shine, you're precious