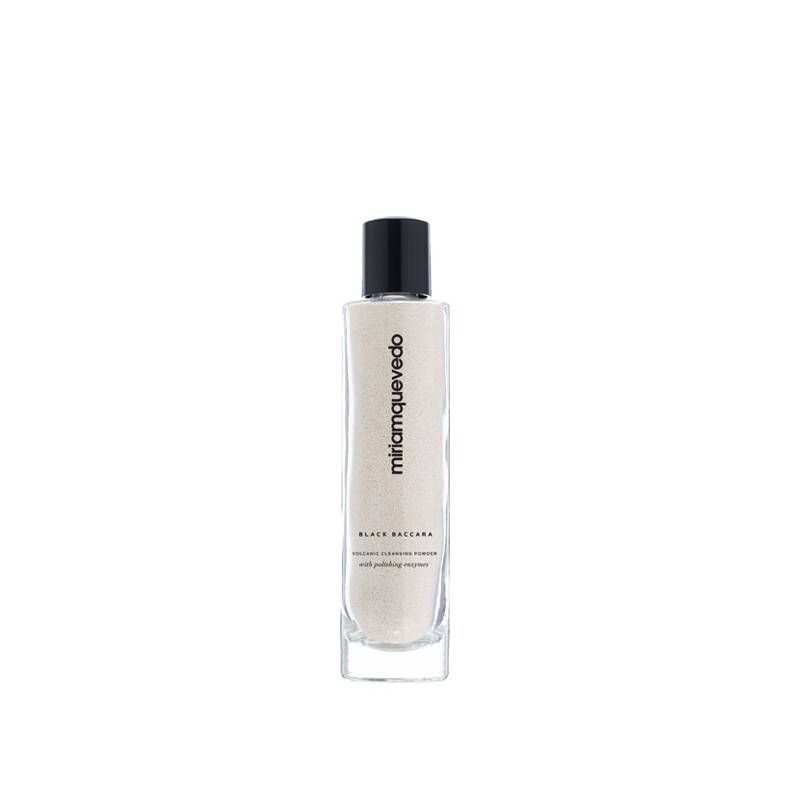 BLACK BACCARA VOLCANIC CLEANSING POWDER
20 Item Items
Warning: Last items in stock!
Availability date:
What it is: This luxurious and purifying cleanser is an exfoliating powder formulated with pineapple and papaya enzymes to remove dead skin, promote cell turnover and gently polish for a fresh and dewy glow.
What it does: Unique blend of precious gemstones and volcanic ash transforms to a rich lather once combined with water to thoroughly cleanse and prepare skin for subsequent treatments. Rich in Bio-Sulfur which reduces acne, our purifying cleanser purifies the skin and relieves redness.
Who it's for: For all skin types.
What it's free of: Formulated without Sulfates, Parabens, Mineral Oils, Phthalates, Paraffin, Petrolatum, Preservatives, Perfume, or Silicones.
First, cleanse the skin with the Black Baccara Global Cleansing Milk. Then, apply a small amount of the purifying cleanser to the palm of your hand and mix with a little water. Emulsify with your hands until it transforms to a delicate foam then apply to face, neck, and neckline using circular movements for 2 minutes. Finally, rinse with water.

Continue the ritual with the Black Baccara Global Revitalizing Toner.
Volcanic Cleansing Powder: Volcanic ash. From the purity of the volcanoes of Jeju Island, this natural skin purifier is not only rich in minerals but its exfoliating properties help cleanse the skin and eliminate dead cells for a radiant finish.

Pineapple and Papaya Enzymes: Enzymes with protein action derived papaya from pineapple stems, has powerful, yet gentle exfoliating and cleansing properties. Gently dissolves dead skin cells.

Biosulfur: An essential mineral that plays an important role in the health of the skin. Especially effective in treating acne, it also relieves redness and inflammation and offers powerful purifying properties.

Precious Gemstones: A unique blend of Jade, Coral, Amethyst, Ruby, Tourmaline, Pearl and Amber. Promotes cellular regeneration of the skin through exfoliation. Also works to calm and soften the skin. Helps reduce dark spots, cleanses pores and provides luminosity. High mineral content in calcium and magnesium. Protects skin form external aggressions and increases the level of cellular energy. Refreshes the skin and promotes the production of new cells, thus providing anti-aging benefits for the skin.