How porous is your hair?

Realising by yourself what your hair needs are can be tricky. It doesn't surprise us! Imagine that you had to identify what your body is missing without taking a blood test. Is it iron? Maybe platelets? Getting to know it without professional help would be impossible and not recommended. The same thing happens with your hair.
There are basic concepts to identify the needs of your hair and porosity is one of them. Porosity is your hair's ability to retain hydration (which, along with proteins and lipids, is what your hair needs to be healthy). Without hydration, a mane looks lifeless, dull and dry. That is why it is so important to analyze what type of porosity you have and use the appropriate treatment. Follow this quiz and you will know.
How is your hair?
A) Brilliant, but it

easily

gets greasy
B) Dry, brightless, dull and wit open ends
When you apply serums or oils...
A) I try to apply the less quantity possible to avoid a greasy finish
B) I have to use a lot because my hair absorbs everything so quickly
C) I don't have any of the above concerns
¿How many time does your hair takes to naturally dry?
When you wash your hair…
A) It takes a lot to get wet
B) It gets wet very quickly
C) My hair is easy to wash and comb

If you chose A, you have low porosity
Low porosity is characteristic of shiny and healthy hair (especially in dark tones), and with a closed cuticle. As its outer layer is tightly knit, with overlapping scales, the hair has very little absorption capacity and it is very difficult for the ingredients of the products to penetrate properly.
In this type of hair, treatment products (such as oils or serums) used in excess tend to remain on the outer layer, as they are not absorbed properly. The result? The dreaded 'greasy effect' with which your hair looks dirty.
Miriam's Tip: Don't give up on oil-rich products but apply them in small amounts.
What do you need? Water-based products or very light textures that will penetrate more easily to maintain and provide hydration. The most important thing is that you provide your hair with hydration and small amounts of lipids and proteins to prevent damage or repair those micro-damages that appear daily. In our day to day, we are exposed to many factors that are harmful to our hair and it is in our hands to protect it to keep it healthy and shiny.
Your essentials: Extreme Caviar Conditioner Balm, Extreme Caviar Vitality Luxe Mask, Black Baccara Hair Multiplying Mask.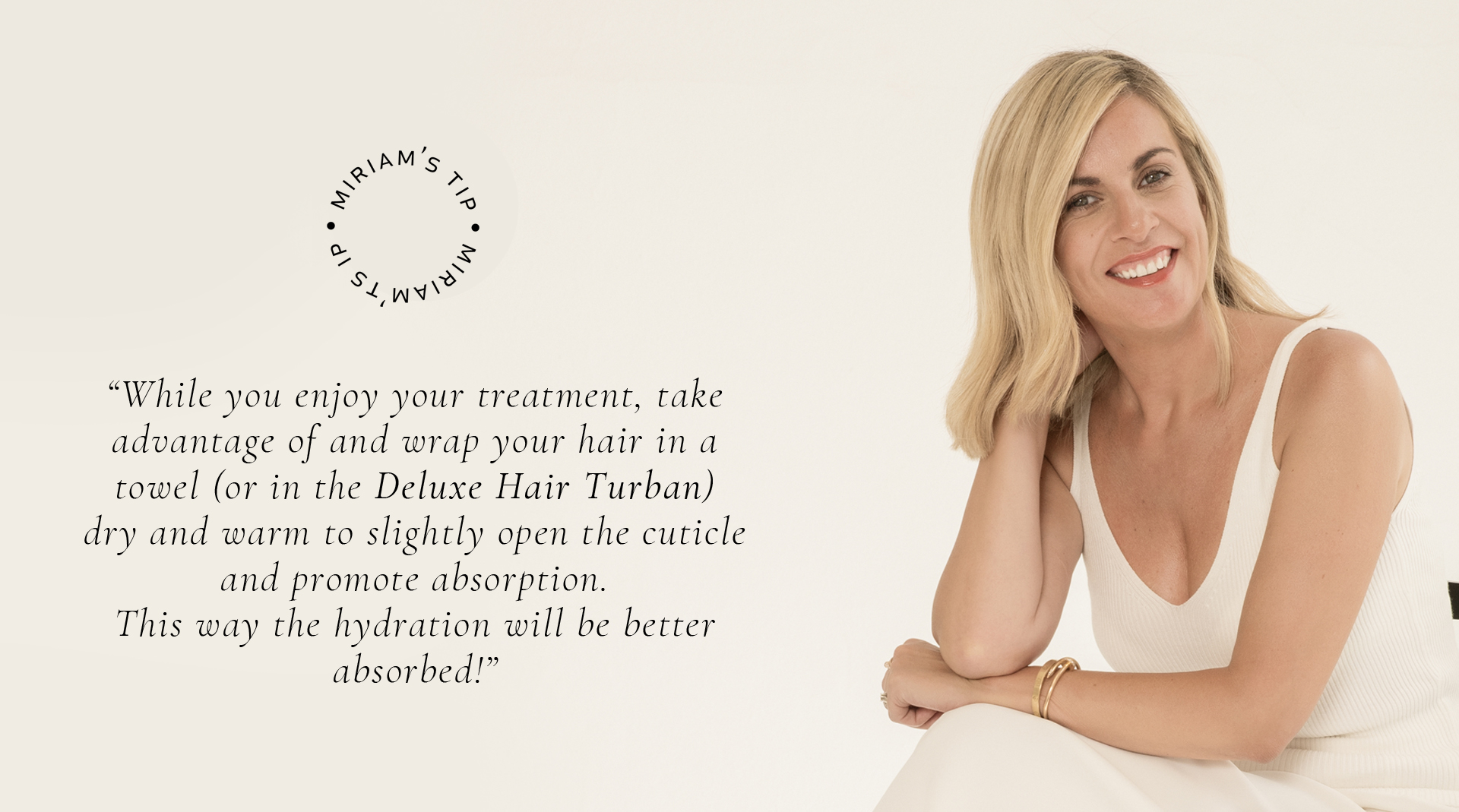 If you chose B, you have high porosity
These hairs are characterized by having an open cuticle. As moisture enters, it leaves, and that is why your hair is dehydrated. This type of porosity may be inherent in your hair or the result of damage from chemical treatments, heat tools, or environmental damage.
Dryness, dullness, difficulty to tame and style, and a tendency to frizz are usually characteristics of this type of hair. In hair with high porosity, the hair absorbs moisture from the air in humid ambient climates and is left with a puffy and frizzy appearance.
What do you need? Products rich in proteins and oils to seal the cuticle. We want the actives that provide hydration not to go in and out easily, but to stay in your hair. Without proper treatment, high porosity can lead to a state of deep damage, causing brittleness and breakage of the hair.
Your essentials: Depending on your hair type, choose your mask between: Platinum & Diamonds Luxurious Mask (for normal to fine hair), Extreme Caviar Intensive Anti-Aging Luxe Masque (for normal to thick hair) or The Sublime Gold Mask (for thick hair). Then mix it with a pipette of the perfect oil for your hair: if you have it fine, Glacial White Caviar Hydra-Pure Precious Elixir; if it is rather thick, The Sublime Gold Oil. This final step will help you repair and seal the cuticle thanks to all the nutrients and proteins provided by the oils and serums.

If you chose C, you have medium porosity
In this case, the cuticle layer is balanced. By not being completely closed, it allows it to absorb the right amount of moisture and prevents it from escaping immediately.
Of course, the appearance of your hair will depend on how you treat it, Avoid overexposing it to the sun, using chemical treatments and / or heat tools and other elements that damage it, so that your cuticle does not open excessively and porosity does not tend to be tall. If you take good care of it, it will look brighter and smoother, if not ... it can be easily damaged!
What do you need? Balance between proteins and lipids to nourish them, and moisturizing products to compensate for the loss of hydration.
Your essentials: Platinum & Diamonds Luxurious Mask (for normal to fine hair), Extreme Caviar Intensive Anti-Aging Luxe Masque (for normal to thick hair), Black Baccara Hair Multiplying Mask (perfect for colored or highlighted hair) and Glacial White Caviar Hydra-pure Rescue Masque, for a more intense hydration that provides your hair with a balance of the three essentials: hydration, lipids and proteins.
Beautiful hair starts right now.
Now that you know how to treat your hair according to your type of porosity, you just need to get down to work with your intensive treatment. And if you have any questions, you can always consult us or carry out a personalized hair diagnosis with us from the most advanced technology and our specialists.
Remember: we are here to help you shine.