A tribute to all of the mothers around the world

Miriam Quevedo is the alma mater of our company. She possesses all of the knowledge there is to know regarding skin, hair and scalp care. A master of ingredients, she knows how to make the best of them to create innovative products and rituals. As a child, under the watchful eye of her mother, she discovered her passion for unique and exceptional raw materials.
She is currently the creator of the brand that bears her name and her goal is none other than to take care of people through her creations and, for this reason, she dedicates her days to finding a balance between effectiveness and respect for health and the environment.
A passion and dedication inherited from her mother. A legacy to which today, we would like to pay tribute to on the occasion of the next Mother's Day.

Learned values
Miriam Quevedo was raised among organically grown herbs and exceptional botanical ingredients, while spending time in her mother's herbalist's shop in Barcelona. She spent hours working by her side, learning how to select the highest quality of local products and learning about the properties of the most exceptional ingredients from around the world. She learned how to work wonders with them, how to blend and reinforce them with advanced treatment protocols that combine facial and hair rejuvenation to obtain the best results.
If there is something that makes Miriam's learnings from her mother stand out, it is her passion, drive and the tireless search for perfection. The importance of believing in oneself and the significance of family above all else. She illustrates that she inherited her deep connection with people from her mother. That without a doubt, the engine of her work is that she feels she is her happiest and her best version of herself.

Her best legacy
Miriam does not doubt that the best thing she inherited is the positive attitude that her mother always showed her. We shine like diamonds," she always says. Something that pushed Miriam in her mission to remind people that they are exceptional and to exalt the natural beauty that we all have.
One of Miriam's inherited habits is taking care of herself, both inside and out. That includes eating a healthy and balanced diet and keeping her mind calm in the face of day-to-day stress.

Her most precious memories
Miriam's family still have the portfolio that was in her mother's herbalist shop. It has more than a thousand pages in it, where you can find all of the botanical ingredients and medicinal herbs that are known to exist. Miriam still affectionately remembers how her mother used to make her look all of the names up, something that aided the growth of her knowledge and thus endow her products with their benefits.
A precious memory that she wanted to give a nod to by creating a portfolio that includes the origin, benefits, clinical studies and how each of the ingredients that we work with at Miriam Quevedo works.

From one generation to another
Miriam, taking example of her mother, wanted to pass on a journey of values to her daughters. Their only purpose is none other than to grow up, always believe in their projects, and work to achieve their dreams with passion and honesty. Knowing that time passes by fast, she advises them to stop reflecting and learn to make decisions with firmness and passion.

Beauty, the centre of product development at Miriam Quevedo
She is a pioneer in introducing the concept of anti-aging skin care and transferring it to the hair and scalp. Miriam's goal has always been global rejuvenation. The way in which we take care of ourselves not only makes us beautiful in the present, but will also "elevate" our beauty in the future.

Our significant heritage is your best gift
The story of Miriam Quevedo is one more example of the importance of our mothers in our own journey. Unique and irreplaceable women whose legacies are our best heritage. It is impossible to give back everything they have given us, but their beauty can flourish and make them feel their best.
Miriam Quevedo wants to pay tribute to all mothers with limited edition sets that include a complete rejuvenating hair ritual for every need.
Black Baccara is Miriam Quevedo's latest Haircare collection. It's a haircare collection that focuses on regenerating and rejuvenating damaged hair, thus combating the effects of premature ageing caused by external aggressions and our modern lifestyle.
It is 100% Vegan and its highly concentrated formulas, with more than 35 active ingredients, promote healthy hair growth and optimal anchorage.
The Black Baccara Haircare collection is made with I'm GreenTM Polyethylene, a plastic produced from sugar cane that helps reduce greenhouse gas emissions. It is also 100% recyclable.
This limited-edition collection includes:
Black Baccara Hair Multiplying Mask
Black Baccara Hair Repairing & Multiplying Serum
We have completed the collection with our Black Baccara Hair Multiplying Shampoo as a gift from us to you.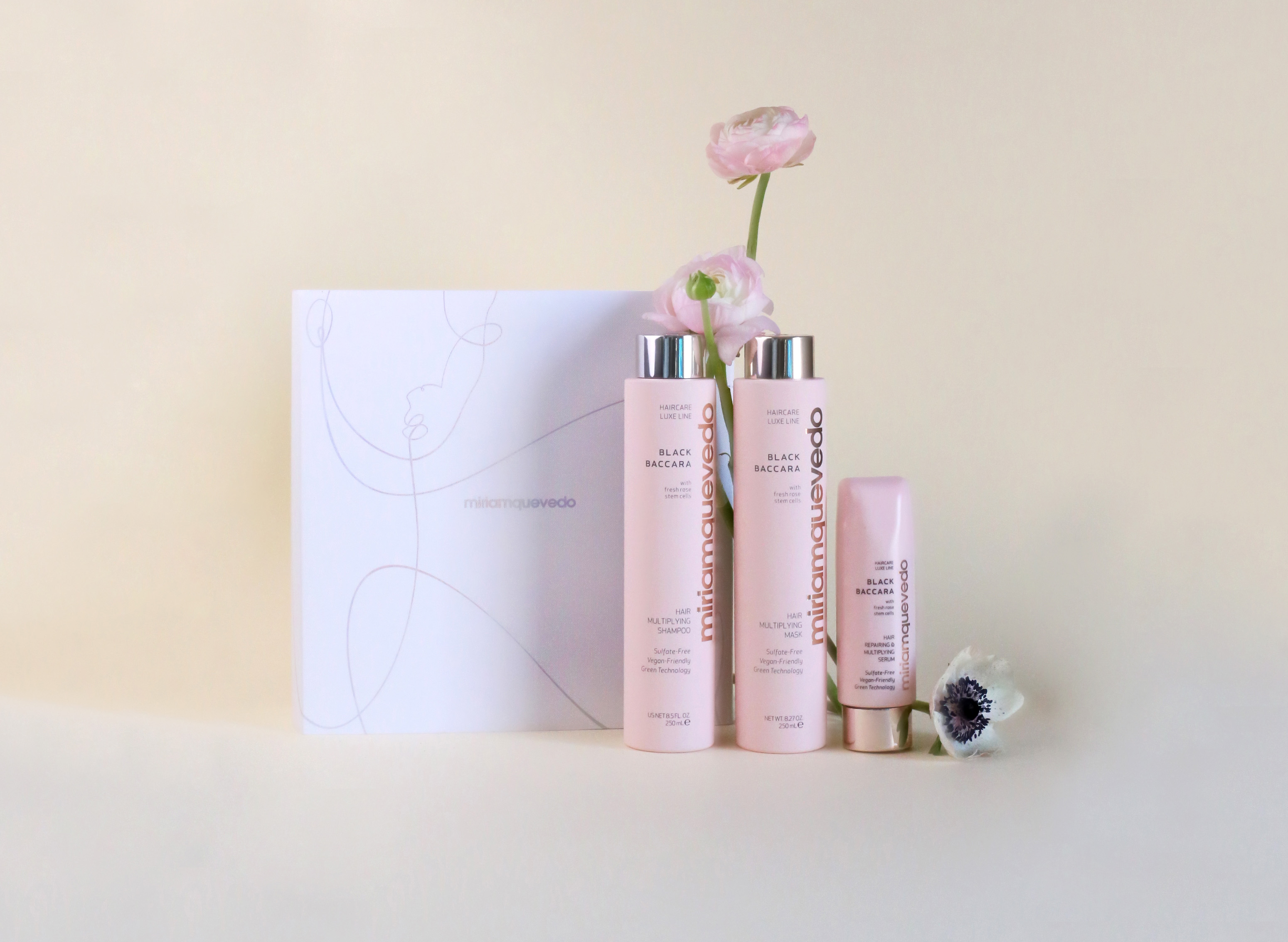 It includes a luxurious three-step routine loaded with powerful ingredients that strengthen and revitalise hair from the inside out, addressing specific concerns such as hair loss. With Miriam Quevedo's Extreme Caviar collection, your hair can look visibly healthier and more protected.
This limited-edition set includes:
Extreme Caviar Exfoliating Scrub Scalp Mask
Extreme Caviar Conditioning Balm
The Extreme Caviar product collection is completed with with the gift of the Extreme Caviar Special Hair Loss Shampoo.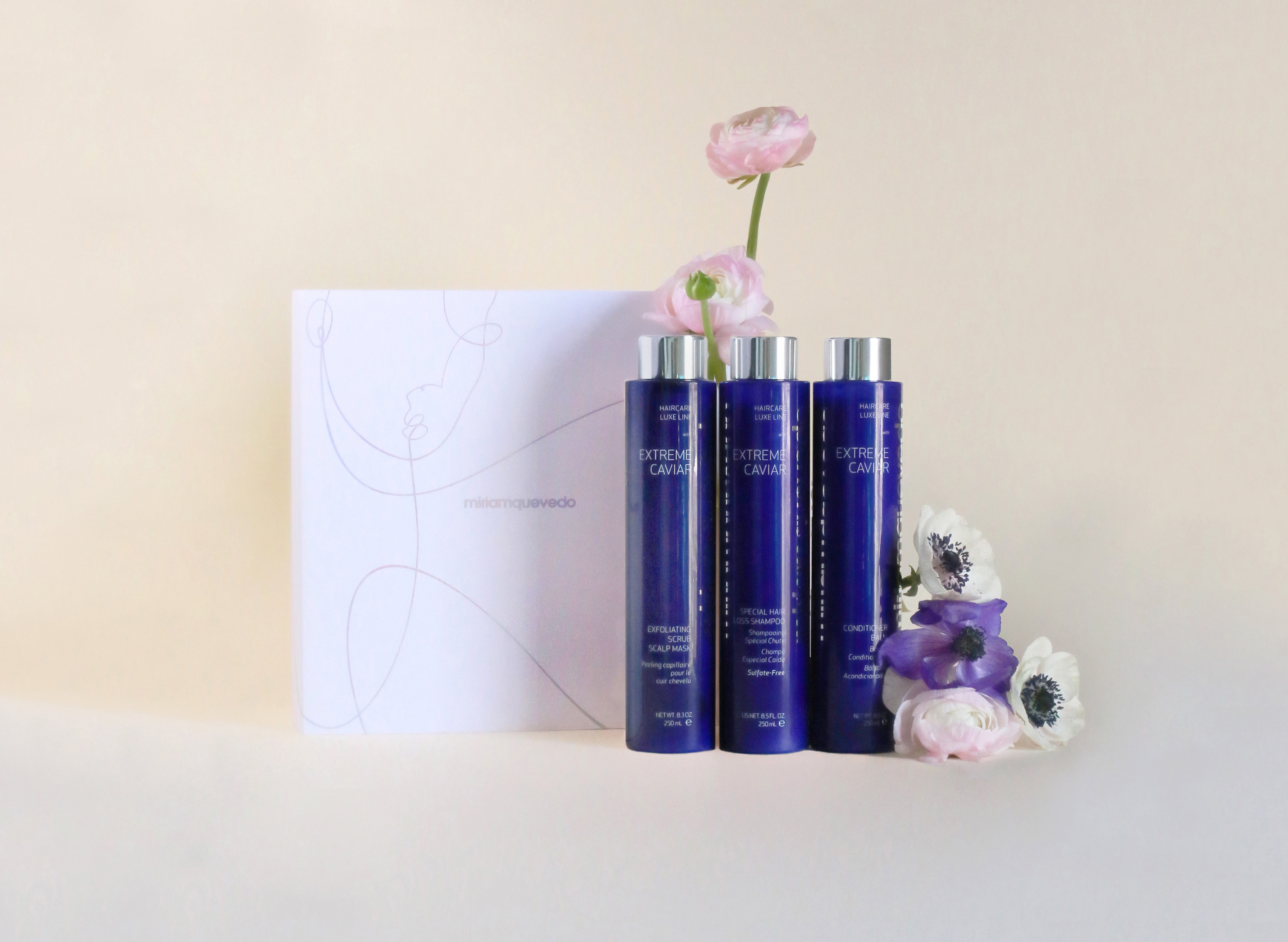 Miriam Quevedo's Platinum & Diamonds collection gives the hair the volume back that it has lost over time. It includes unique formulas enriched with Platinum Powder, Diamond Powder, Thermal Spring Water and powerful antioxidants that nourish, condition and rejuvenate the hair and scalp. Provides body, renewed silkiness and a diamond-like shine.
This limited-edition collection includes:
Platinum & Diamonds Luxurious Mask
Platinum & Diamonds Luxurious Serum
With each Platinum & Diamonds set purchase, the Platinum & Diamonds Luxurious Shampoo will be given as a gift.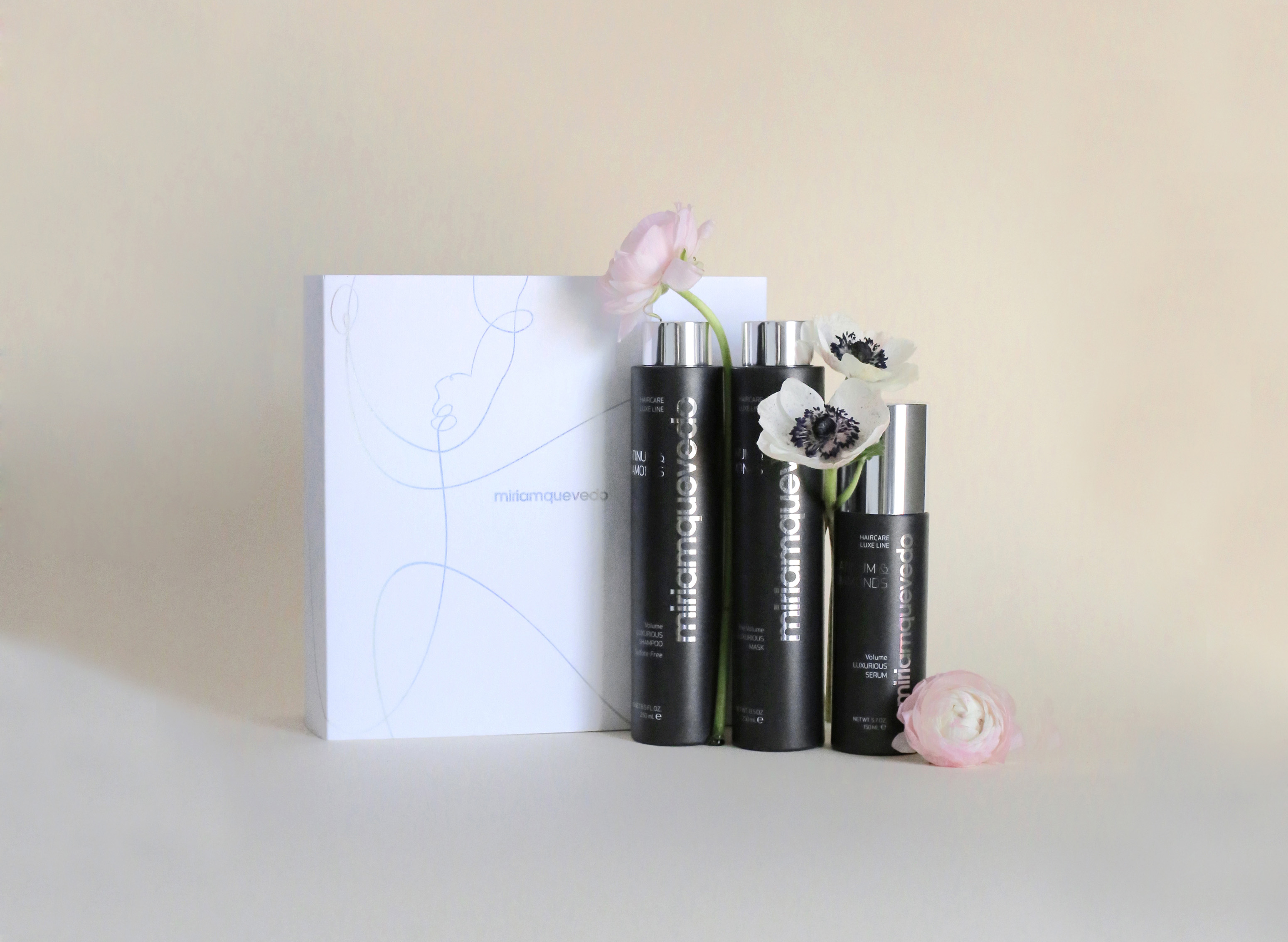 Every mother has her own needs. Each Miriam Quevedo limited edition box will provide you with a specific solution and an opportunity to enjoy healthy and shiny hair once again.