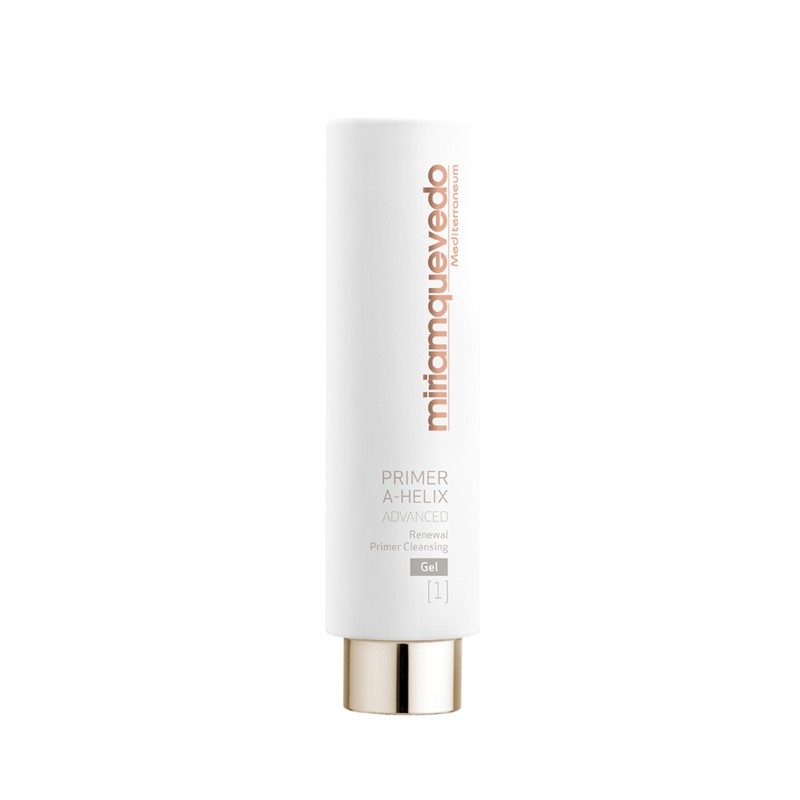 A-HELIX ADVANCED RENEWAL PRIMER CLEANSING GEL
23 Item Items
Warning: Last items in stock!
Availability date:
What it is: Mild exfoliating and purifying cleansing gel. Skin perfectly clean, fresh and renewed. Recover all its smoothness and natural luminosity instantly. Fluid texture.
What it does: Exquisite and luxurious multi-functional cleanser gel, sulphates free, with a fluid texture that deeply removes the skins impurities as all traces of makeup without irritating the skin. Soothes pores and redefines texture thanks to its soft exfoliating action that helps to remove dead skin cells and stimulates the cellular proliferation avoiding skin aging and keeping it hydrated and protected.
With multi-perfection ingredients and the Phyto-Active Botanical Complex that transforms, renews and protects the skin at the same time it becomes clean, visibly healthy, smooth and luminous instantly.
Discover the first step for a renewed skin recovering all its natural beauty and luminosity.
Who it's for:From normal to combination skin, combination and oily skin type.
| | |
| --- | --- |
| Ingredients : | : |
| - : | Dragon's Blood |
| - : | Biologic Proteic Plasma (SHA |
| - : | Gluconolactone 6%(PHAs: Poly Hydroxy Acid) |
| - : | Thermal Water |
| - : | Phyto-Active Botanical Complex |
| - : | Organic Elderberry Flower Water |
| - : | Organic Aloe Vera. |
| - : | Deeply cleans any trace of makeup and impurities without irritating the skin. |
| - : | Specially formulated with Gluconolactone (PHAs) provides a gentle exfoliation helps remove death cells, smoothing pores and redefine the texture of the skin while moisturizes and protects. |
| - : | Soothes and minimizes pores: reduces the diameter, number and its expansion. |
| - : | Strong anti-lipase activity: helps to reduce microbial growth |
| - : | Astringent and purifying properties |
| - : | During the cleansing ritual, helps to prevent irritation and redness which accelerates the premature skin aging due to not containing exfoliating agents such as scrubs and sulphates. |
| - : | It stimulates cell proliferation: promotes and accelerates the repair and renewal of skin tissue. |
| -- : | It brings light and freshness, improving skin texture instantly. |
| - : | Provides a primer basis for the skin. It prepares and improves penetration and enhances the benefits of products applied beneath. |
| - : | Multi-functional: it can be applied as a renewal facial mask for 3-5 minutes. |
| - : | Softens and conditions the skin. |
| - : | Alcohol-free. Sulphates-free. Paraben-free. Mineral oil-free. Petrolatum-free. |
Step 1 of the cleansing ritual.

Apply morning and night a small amount, apply over face, neck and neckline by gently circular massages. Rinse with plenty of water. End with our Step 2 of our Cleansing Ritual using our A-Helix Advanced Primer Renewal Lotion. Use our Miriam Quevedo massage techniques to reinforce their benefits.
Dragon's Blood: Organic reddish sap with highly renewal properties, restorative, antioxidant and anti-aging. Visibly reduces the appearance of skin imperfections.

Biologic Proteic Plasma (SHA): natural ingredient that comes from a selection of secretions of Helix Aspersa Müller that intensely stimulates the cellular proliferation and actives the tissue regeneration. Anti-imperfections: help to prevent new ones from forming. With natural peptides that help to rebalance the skin flora.
Gluconolactona 6% (PHAs): Poly-hydroxy acid with exfoliating surface action that improves the epidermal barrier, renews the skin surface, reduces water loss and improves skin protection against solar radiation. Help with acne treatments, sensitive or irritated skin.Thermal Water: Mineromedicinal water from Hot Springs Salies de Bearn des Gaves (France). Rich in Calcium, Magnesium, Iron, Manganese, Zinc and Copper.
Botanical Phyto-Active Complex: Natural and botanical substance obtained from Asian plants:
- Ginger: purifying and stimulating properties
- Burnet: hemostatic and astringent properties
- Cinnamon: antiseptic and astringent properties
They help reduce pore size providing a more radiant and uniform complexion. Balances the skin flora and prevents irritation.
Clinical studies show an 8% reduction of pore diameter, reduction in the number of large pores by 6% and reduced pore dilation by 15%.
Organic Elderberry Flower Water: Rich in flavonoids (antioxidants), calms, relaxes, tones and has anti-inflammatory properties.
Organic Aloe Vera: High hydration, protect from daily aggressions, combat dryness and prevents dehydration.