BLACK BACCARA
Advanced hair growth.
Superior bond rejuvenation.
Since its launch in 2019, Black Baccara has become the reference for those in need of an anti-aging hair and scalp treatment to stimulate hair growth stimulation and deeply repair the fiber. The time has come to reveal its innovations and once again disrupt the industry's standards. Our iconic vegan collection welcomes 4 new ultra-concentrated treasures for manes that seek a visible and long-lasting improvement in density and for extremely damaged hair that requires an in-depth reconstruction of the fiber. Introducing the new must-haves for hair and scalp wellness.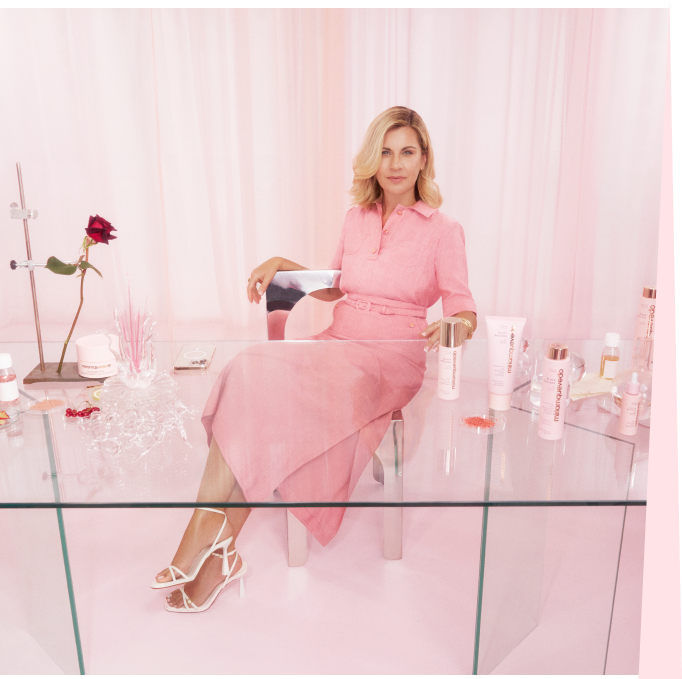 Miriam's inspiration
"During my consultations over recent years, I became aware that many women shared the same concern. I listened to them repeatedly describe their hair as weak, brittle and thinning. They all had suffered a great amount of stress, which triggered considerable shedding: their hair would barely grow or more prompt to breakage. On top of that, many had overtreated mane, exposed to additional damage from chemicals treatments or heat tools.
Beyond solving concerns, my intention is to help people shine even more and recover their self-esteem and confidence through strong, healthy and gorgeous hair. In fact, our hair is part of our identity, a means of self-expression using its own voice and language. My hair and scalp treasures are made to pamper both manes and minds."
MIRIAM QUEVEDO, FOUNDER.
we challenge the hair's aging process (ONCE AGAIN!)
Miriam has researched the main causes behind the hair's thinning and weakening to develop products that most effectively target the root of those concerns. Thanks to new precious ingredients and state-of-the-art biotechnologies, an ideal microenvironment is created to achieve healthy hair, reversing its damage and bringing it back to its virgin state. In fact, this is how we obtained our extraordinary proven results:
01
STIMULATING
HAIR GROWTH
The alteration of our hair's growth phases is directly impacted by our environment and lifestyle. For this reason, the new formulas work in synergy to:
Regulate growth phases
Accelerate healthy growth
Ensure the best anchorage of the follicle
Avoid hair thinning
Prevent premature hair loss
02
ENHANCING
OXYGENATION
Oxygen is life. Our breathing complexes ensure that such essential oxygen for the hair reaches the follicle correctly and thus be able to:
Stimulate cellular metabolism
Reduce inflammaging of the scalp
Optimize cellular and dermal regeneration
Ensure healthy hair growth
03
DETOXIFYING
THE SCALP
Contamination, pollution, product residues, dirt, sweat, excessive sebum production... So many factors that can wreak havoc the optimal functioning of our scalp. The benefits for hair and scalp of an effective detoxification are:
Unclog pores saturated with residues
Prevent hair thinning
Avoid the slowdown of growth
Optimize the penetration of active ingredients
Ensure optimal scalp health
04
REDUCING
THE HAIR'S STRESS
Neutralizing and regulating Cortisol production triggered by prolonged stressful situations prevents premature aging factors and ensures the follicle's health:
Provides an anti-stress effect
Disinhibit cellular proliferation
Strengthen both hair and weakened follicles
Slow down the premature appearance of gray hair
Reduce scalp inflammaging and itchiness
05
REPAIRING
THE FIBER'S STRUCTURE
We present the rescuer for extremely damaged hair that seek to recover a healthy, strong mane with a virgin state after regular chemical and mechanical treatments.
Repair and multiply broken fiber bonds
Seal open cuticles, avoiding loss of water + lipids
Strengthen the fiber from inside out
Protect against future damage or aggression
BLACK BACCARA
MIRIAM QUEVEDO'S ULTIMATE INNOVATION
BLACK BACCARA
MIRIAM QUEVEDO'S ULTIMATE INNOVATION
BLACK BACCARA
MIRIAM QUEVEDO'S ULTIMATE INNOVATION
CUSTOMER SHINE
Get your customized Black Baccara ritual 
Discover how to incorporate the new Black Baccara treasures into your hair and scalp routine with an online consultation with one of our Hair & Skin Therapists. Enjoy a free 20-minute session during which our expert will analyze your needs and desires to create a 100% tailor-made routine.