advanced
anti-aging haircare
understanding hair aging
Did you know that our scalp's skin ages 6 times faster than the rest of the skin of our body and face? Moreover, hair has its own wrinkles: grey hair, split ends, thinning, breakage, opacity, dryness, porosity, etc.
Numerous factors of our life and surroundings impact and accelerate our hair's natural aging process. Among these factors, some are transversal, like epigenetics, oxidative stress and inflammaging, and those that may be classified into 4 types of causes of aging:
reversing your hair's wrinkles
Although most of the causes of aging are beyond our control, we can prevent and reverse the effects they have on our hair thanks to a global action haircare. Our rituals are designed to counteract these effects at the level of the fiber, follicle and scalp, against both invisible effects (i.e.: internal inflammaging, excess of free radicals, increased pH, etc.) and visible effects (i.e.: debilitated follicles, sensitivity of the scalp, weak and brittle hair, etc.).
Thanks to their exceptional ingredients and scientific innovations, they allow for restoring and maintaining the youth of every type of hair, giving it back unprecedented texture, elasticity and luminosity.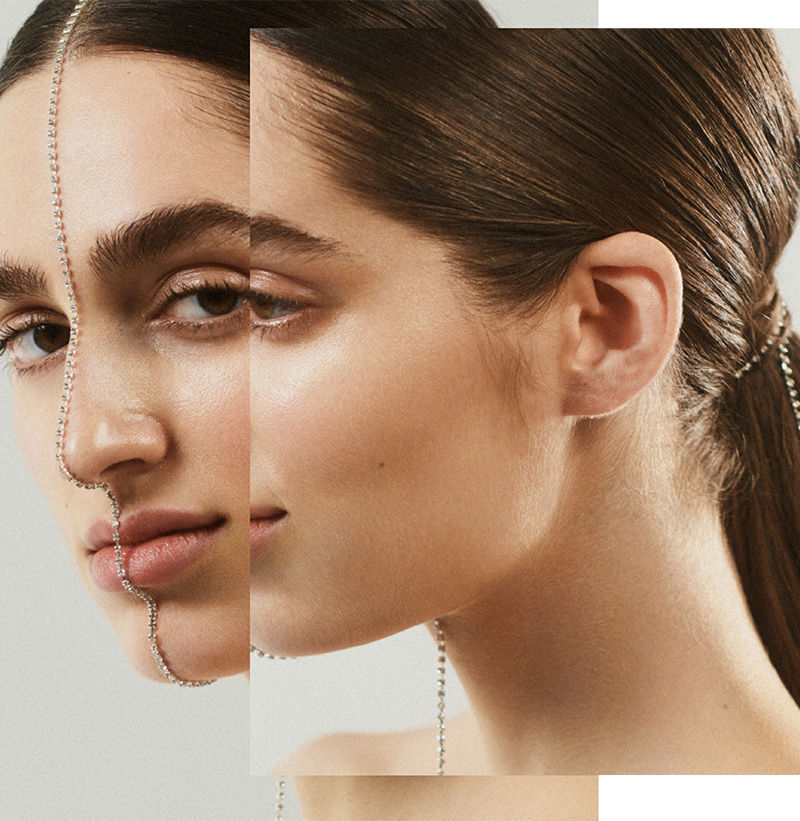 Epigenetic
Epigenetic changes are factors like age and external factors that will modify our DNA without altering the DNA sequence. These epigenetic changes assure that cells will only produce the necessary proteins. Our modern lifestyle (diet, stress, pollution, etc.) may impact these epigenetic changes and distort the cells' proper functioning, inducing premature aging.
Oxidative stress
An excess of free radicals and lack of antioxidants to counteract them triggers the production of oxidative stress by our body. This natural process directly impacts the cells' proper functioning and causes cellular oxidation and in-depth damage. One of the symptoms of oxidative damage is premature aging, including of the hair.
Inflammaging
El "Inflammaging" es una combinación de inflamación y envejecimiento, y es una de las principales causas del envejecimiento prematuro. Se trata de un proceso inflamatorio crónico causado por el debilitamiento del sistema inmunológico debido a nuestro ámbito, el estrés, una falta de sueño, las hormonas o la dieta. Provoca una degradación de las fibras de colágeno, altera las células, deteriora la matriz extracelular, ralentizando los procesos de reparación y regeneración.
Age
This natural wear makes for aging to arise from our vital systems that damaged over time by wear and our stressful life, impacting the functioning of our cells, tissues and organs.
Cellular autophagy
At the end of its life cycle, a cell induces cellular decomposition because it can no longer divide itself, and is eliminated as waste substances to make room for new cells. However, when many cells experiment this oxidation simultaneously, the discharge mechanism is interrupted and the waste substances accumulate; this affects the development of new cells, creates inflammaging and impacts the regenerative process.
Mechanical aging
Mechanical aging arises from damage caused by heat and traction tools that weaken the hair fiber. The heat from styling tools (hair driers, flat irons, curling irons, ionic brushes, etc.) decomposes collagen and elastin and results in lost elasticity of the hair and turgor of the scalp, dehydration and alteration of the scalp's protective layer. Traction, on the other hand, is caused by brushing our hair too aggressively, wearing hairstyles that are too tight or rubbing our hair with a towel, which causes damage to the cuticle and breakage and weakening of the hair.
Envejecimiento químico
La exposición a los tratamientos químicos (tintes, decoloraciones, permanentes) debilita considerablemente el cabello y disminuye su resistencia, dejándole más expuesto al envejecimiento prematuro. Los agentes químicos causan la rotura de los enlaces que componen la queratina, provocando un daño en su estructura. Dañando también la cutícula, el cabello sufre de una pérdida continua de humedad, dejándolo seco y quebradizo.
Pollution
Just like our facial skin, our hair is continuously exposed to harmful environmental agents like pollution. The pollution's molecules adhere to the scalp and hair, generating accumulated residues that cause intoxication. These alter the protective layer and damage the cells, accelerating the hair's porosity and dehydration; hair hardly lasts clean and looks weighed down, without body and lifeless.
Toxic residues
A type of waste, toxic residues harm our body and environment alike. Microparticles accumulate and penetrate our skin and hair, triggering cellular oxidation that degrades the cells' primary functions and speeds up the aging process.
Photoaging
Just like our skin, our hair suffers from prolonged exposure to the sun without adequate protection. Too much sun decreases the hair's antioxidant defenses and causes failures of its immune system. The sun's rays penetrate to the hair's cells and harm its DNA. This triggers the appearance of wrinkles and markers that do not correspond with our age: the destruction of those links that protect from further decreased resistance, discoloration, and opening of the cuticles which makes it easier for its innermost layers to suffer alteration.
Digital Aging
Similar consequences to those caused by the sun's rays on our skin and hair are caused by the blue light emitted from computer, tablet and smartphone screens. Recent scientific studies have found that overexposure to these electronic devices accelerates aging, just like any other type of radiation. It alters the hair's growth phases, leading to extended hair loss periods and stunted growth stages. Whether in the short or long term, this generates loss of density and volume.