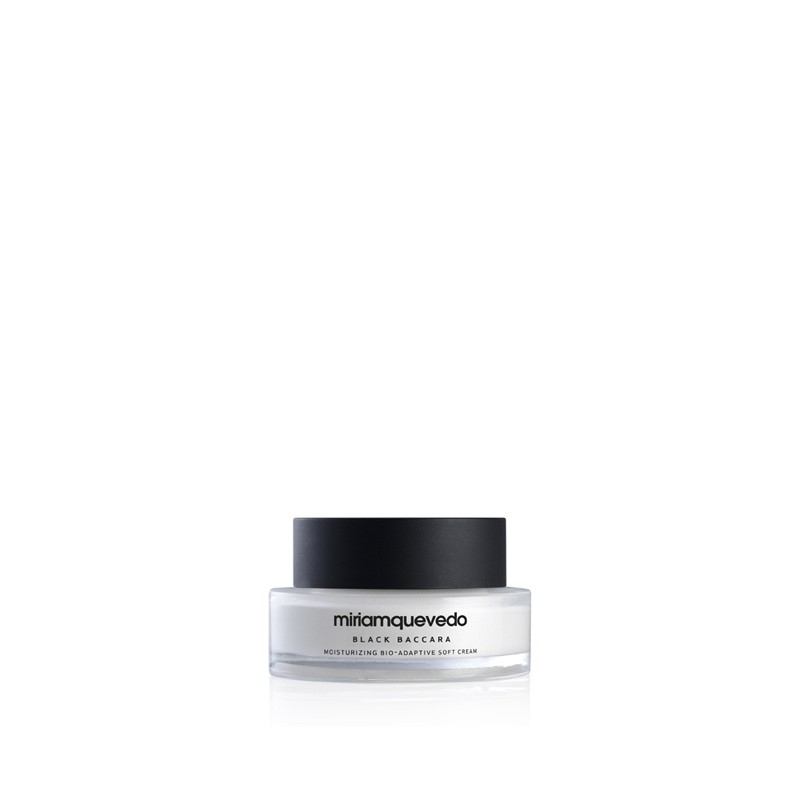 BLACK BACCARA MOISTURIZING BIO-ADAPTIVE SOFT CREAM
60 ml / Net Wt. 2.0 oz
21710013
24 Item Items
Warning: Last items in stock!
Availability date:
What it is: Lightweight hydration.

What it does: Deep moisturizer + cellular lipid refiller for maximum comfort, radiance and age-defying action. 
Who it's for: For all skin types 

Clinical Studies: 
96% agree it provides skin with elasticity and flexibility
83% agree it has anti-aging results
83% agree it reduces signs of fatigue
92% agree it provides a feeling of intense moisturization
92% agree it makes skin incredibly soft
88% agree it makes skin incredibly smooth
88% agree it provides a dewy finish
83% agree it provides a youthful glow
100% agree it provides comfortable skincare
*in vivo study of 24 volunteers, 3 weeks of regular use, twice daily (morning and night). 
Use daily, day and night. Always apply to clean and toned skin. Depending on your preference the Black Baccara Bio-adaptive Soft Cream can be applied in two ways:
1. Pre-blended Application:
Mix a small amount of the Black Baccara Bio-Adaptive Soft Cream with a few drops of your selected Black Baccara Dynamic Booster(s) in the palm of your hand. Mix well and spread the blend in an outward motion beginning from your forehead, nose and cheeks, working your way down to your chin, neck and décolleté until fully absorbed.
2. Layered Application:
Use the enclosed spatula to apply a small amount to cheeks, forehead and neck. Spread in an outward motion beginning from your forehead, nose and cheeks, working your way down to your chin, neck and décolleté until fully absorbed.
Rare Black Baccara Bio-adaptive Concentrate: Creates an ideal micro-environment to protect against negative epigenetic factors (stress, lack of sleep, poor diet, etc.) that can lead to accelerated aging. Detects skin's exact needs and adapts to provide necessary protection against internal and external stressors. Regulates cellular "clock" that can be offset by our lifestyle ensuring cells function properly.

Organic Buckwheat Superfood: Rich in proteins, essential amino acids, dietary fiber, minerals, vitamins and antioxidants, key ingredient for skin brightening, anti-oxidation, anti-inflammation and revitalization.
Amino Acid Betaine: Derived from sugar beets. Hydrates, maintains water balance and protects against irritants.
Shea Butter: Hydrates and protects skin with an invisible barrier. Accelerates tissue growth, providing more flexible, functional skin with a restored barrier.
Olive Oil: Restores skin's barrier function, provides protection and age prevention, smoothes dry and mature skin and refreshes sensitive skin.
Organic Argan Oil: Contains over 80% of unsaturated fatty acids and an abundant amount of vitamin E. High nutritional value for skin, inhibits free radicals, prevents itching, peeling and dehydration.
Sweet Almond Oil: Moisturizing, nutritional and protective properties. Helps improve cell regeneration, elasticity and softens skin.
Panthenol: Hydrates skin, increases cell renewal, removes and diminishes imperfections, and provides anti-inflammatory properties. Increases skin´s elasticity and smoothness.
Allantoin: Increases cellular renewal and delivers high moisturizing, calming and soothing properties. Restores skin's surface, diminishes imperfections.
Organic Aloe Vera: Protects skin from daily aggression, hydrates and prevents dehydration.
Chamomile Butter: Anti-inflammatory and repairing properties. Calms reactive skin and improves texture.