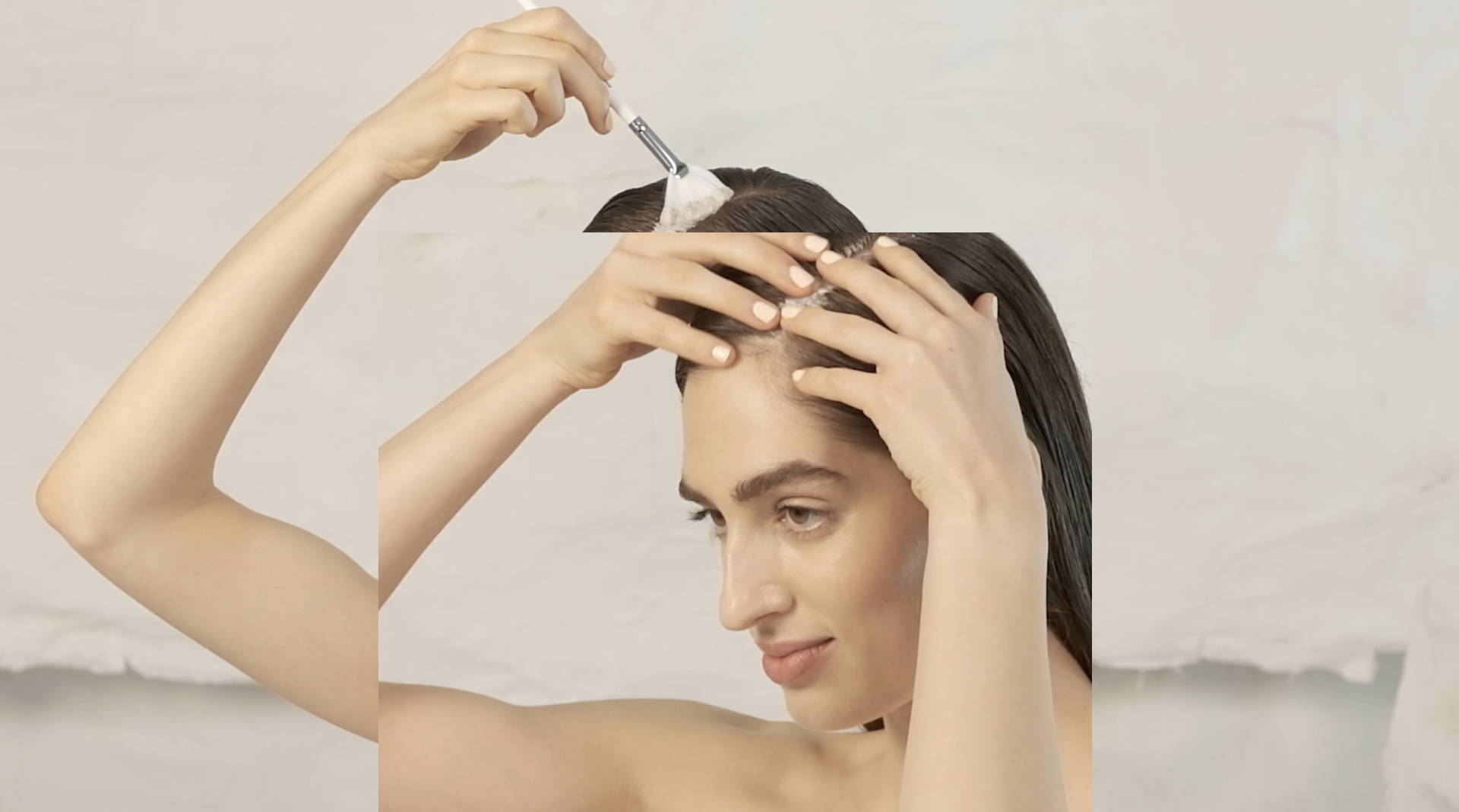 "What a healthy scalp!" This is a trichologist's favorite compliment. That's because the scalp's health is an indispensable prerequisite for beautiful hair. Shine, hydration and even hair loss depend to a great extent on the commonly overlooked in haircare: the scalp.
Our skin is the body's largest organ and our great protector unto external aggressors. And, even though it's obvious, there's also skin underneath our hair (and it ages, that's why we give you all the details here). So, think about it: isn't it unfair to treat it differently from our face's skin? At Miriam Quevedo we call it "hair skinification" and it consists of pampering our scalp as if it was our face.
Exfoliation, an essential pre-shampoo
Exfoliate, cleanse and hydrate: caring for your hair is as simple as imitating our skincare routine. As a part of this, exfoliation is key for the treatments that come afterward (shampoo, conditioner, mask and serum) to be successful. Detoxifying and removing the impurities from your scalp activates its microcirculation and permits for nutrients and oxygen to correctly reach the follicle.
Dead skin, hairstyling product residues, improperly rinsed products, microparticles, contamination, sebum. These are impurities and can be hidden on your scalp, causing common problems, like hair loss or constant breakage, lack of shine, dryness and/or scaliness, dandruff, oily hair or sensibility. As you can see, there are many reasons why a weekly exfoliation is a basic essential to free the scalp of all of those stifling impurities caused by our modern lifestyle that provoke premature aging, and boast of beautiful, detoxified hair.
How to use exfoliant for your hair
Using a hair exfoliant is almost as simple as how we exfoliate our face, with only one inconvenience: you have to have room and separate your hair in areas of approximately 3 cm to properly apply the product. Our mechanical exfoliating mask (Extreme Caviar Exfoliating Scrub Scalp Mask)is applied on both wet scalp and hair, with a gentle massage using our fingertips in circular motions. Then go down on your hair fiber with the product. Very important: you need to leave it on between 5 and 15 minutes.
Thanks to the motion of friction, the mask mechanically drags and eliminates all impurities thanks to its natural Tahitian Mother of Pearl and Coral Sand. This combination removes impurities gently without aggression but is highly effective against all of the dead skin and the scaly superficial layer of our scalp.
If what you're looking for is a chemical exfoliant (Black Baccara Hair Multiplying Scalp Concentrate + Pre-Treatment Exfoliator) that strengthens weak, fine or brittle hair, you may opt for our intensive hair growth treatment that includes an exfoliating pretreatment and a concentrated multiplier. The exfoliant will properly prepare the scalp before applying the concentrated multiplier so that it will penetrate better.
tutorial video on chemical exfoliation
In this case, natural acids act on our scalp, without the need for scrubbing. The Gluconolactone and Salicylic Acid combine perfectly to safely and effectively remove dead cells and impurities from the skin, and help to keep the scalp fresh, clean and without excessive dandruff or sebum.
A double exfoliation of the hair
At Miriam Quevedo we know that sometimes it's difficult to choose. That's why for very stressed hair affected by contamination, we've based our inspiration on the marvelous benefits of the double exfoliation for the face, and have created the definitive detox solution for deep scalp relief, combining both exfoliation treatments. This combo exfoliant neither irritates nor sensitizes the skin, as long as it's not done continuously.
You can come and have it done at our HairSpa in Barcelona or, if you prefer, do your double exfoliation at home. Before going to sleep at night, apply one-third of the exfoliant Black Baccara Pre-Treatment Exfoliato on your scalp with your hair completely dry. When you wake up in the morning, wet your hair before applying the mechanical exfoliant Exfoliating Scrub Scalp Mask on both the scalp and hair, and let it act between 5 and 15 minutes. Afterward rinse and deeply cleanse your hair in the shower. Make sure that no product residues remain on your scalp. To maximize the results, it's ideal to apply this detox ritual before the hydrating ritual or the Black Baccara Bond Rejuvenating Luxe Cure.