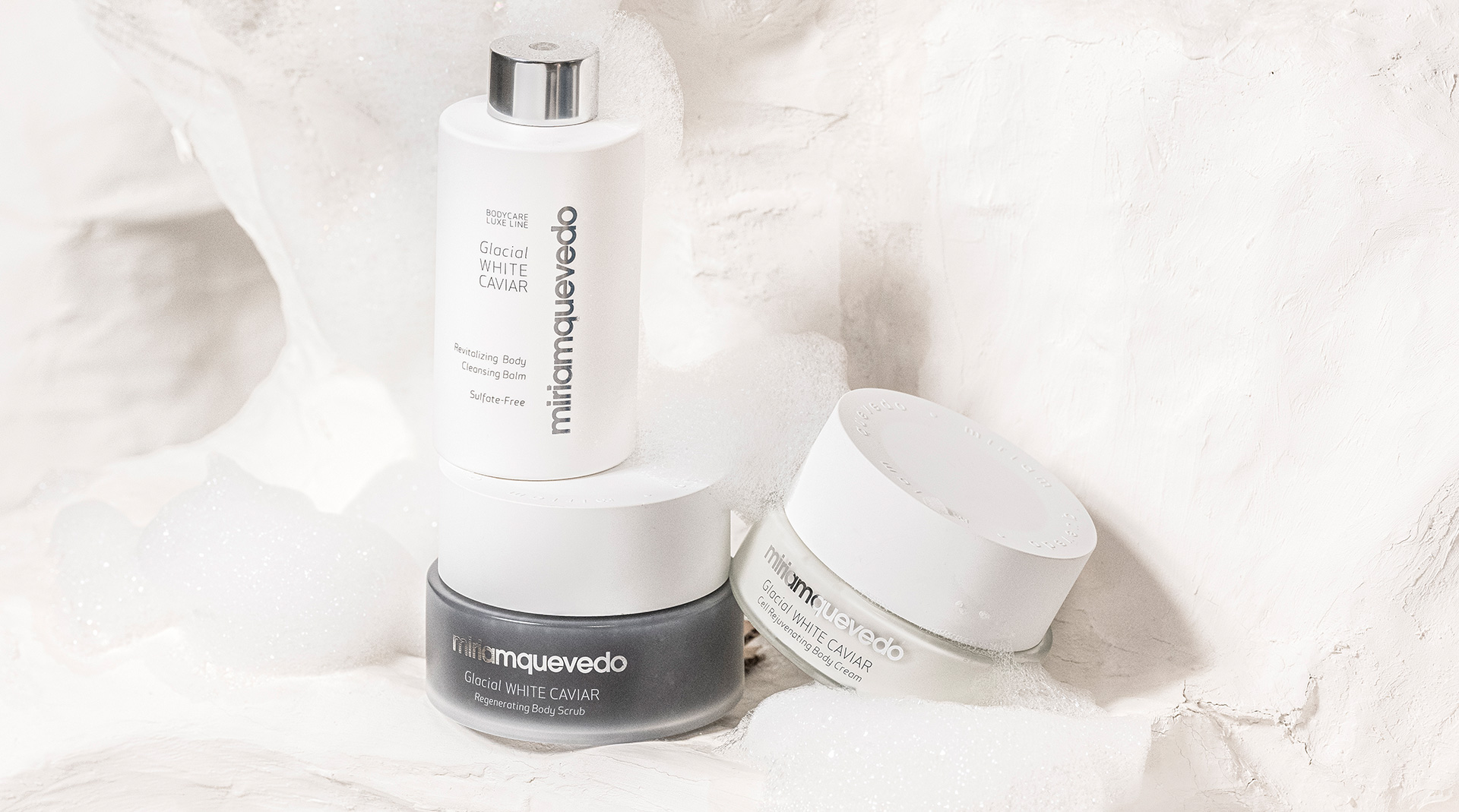 You nourish your body with water for hydration and food as nutrition, so why don't you do the same with your skin? Our ritual of 3 steps + 1 not only hydrates but nourishes your skin in depth while preventing and reversing the main signs of the body's aging thanks to its potent combination of 25 active ingredients. Yes, you've read this correctly. Your body's skin also ages! 
Discover the three steps of our bodycare ritual plus an additional precious tool that will help you maximize the benefits for professional results at home. Keep reading! 
STEP 1 REGENERATE with the Body Scrub
An exfoliant that's also an anti-aging treatment? In effect, our Regenerating Body Scrub, with its melting texture, is the first step to regenerate your body's skin and counteract aging. By exfoliating, you eliminate impurities, dead cells and residues of contamination while preparing your skin for a better penetration of the treatments that follow. 
What makes it inimitable?
Think about it, is your elbow's skin the same as your neckline's skin? Is the skin of your knee the same as that of your forearm? Each body part needs a specific type of exfoliation. That's why our anti-aging scrub is formulated with 4 natural exfoliating ingredients of different sizes and hardnesses to effectively exfoliate all body areas.  
We have selected spherical exfoliating particles with rounded corners and no edges to remove impurities without scraping. From largest to smallest in size, we have the Tahitian Volcanic Sand (exfoliates wrinkles and grooves), Bamboo Powder (exfoliates in depth), Coconut Shell Powder (removes dead cells) and Coconut Pulp (exfoliates larger body areas). 
Recommendations for applying the product
Our Body Scrub is applied on dry skin, as its melting texture transforms into an emulsion when in contact with water, becoming a soft milk. First, apply the scrub on dry skin and massage in circular movements to spread it. This way you'll liberate its precious oils and produce a pleasant sensation of heat on your skin that opens the pores. Second, wet your hands and emulsify the exfoliant into a soft milk with which you can massage the entire body.  
Use our scrub 1 or 2 times weekly as the first step to regenerate your body's skin, protect it from external agents, prevent aging and keep it extremely soft for days. 
STEP 2 REVITALIZE with the Cleansing Balm
Have you ever thought that if you don't use the adequate product, you harm your skin each day and accelerate its aging? Daily cleansing with a product that's respectful of your skin is critical for your skin to preserve its natural functions, like oxygenation or elimination of toxins.  
What makes it inimitable?
Did you know that our Cleansing Balm does not contain any SLES sulfates? In addition, it protects your body from the main theories of aging, like inflammaging, free radicals, photoaging and thermal aging. 
Our skin is covered by an invisible layer of living bacteria that protect it from external agents, like free radicals. This is what we call the skin's microbiota and it's fundamental to keep it balanced so that it can act like a barrier. SLES (Sodium Laureth Sulfates) sulfates do away not only with toxic particles, but also with the beneficial bacteria that inhabit your skin. This is why, instead of sulfates, our Cleansing Balm counts with an innovative technology: smart cleansers. These perform a selective cleansing of the harmful element but without eliminating the microbiota.  
In addition, it's the first cleanser with an anti-aging treatment: finally, you'll transform a basic phase of your daily routine into an anti-aging treatment without any extra effort. Our balm restores the natural barrier function, protecting it from external aggressions and enhancing the skin's natural regeneration process thanks to itsultra-restorative properties.  
Recommendations for applying the product
Do you want to transform your daily shower into a moment of sensorial relaxation? Our Body Balm will stimulate your senses thanks to its delicate fragrance and its pearl-like effect that transforms into a creamy foam when in contact with water. You'll come out of the shower with silky, luminous skin thanks to its glitter particles. 
STEP 3 REJUVENATE with the Body Cream
For the jewel of our bodycare collection, Miriam was inspired by our iconic facial care Glacial White Caviar Precious Cream. Its potent ingredients were maintained, while adding other specific ones for an anti-aging treatment of the body. 
What makes it inimitable?
It's one of the few creams on the market that reverses visible signs of aging and prevents the appearance of those not yet visible, thanks to the activation of the cells' functioning.Aside from the White Caviar and Encapsulated Swiss glacier water, the star ingredients of this collection, it also possesses the Cell-Detox Booster, which activates the skin's autophagy process. This is the mechanism by which cells renew themselves and eliminate and recycle residues within their nucleus, an essential process for regenerating the body's skin. 
Thanks to its potent regenerating formula and the synergy between its active ingredients, the Cell Rejuvenating Body Cream diminishes both internal and external signs of aging. It reduces wrinkles, decreases the appearance of white and red stretch marks, unifies the skin's texture, corrects excessive redness, calms the irritation of sensitive skins, provides firmness and elasticity, visibly smooths the skin, diminishes age spots and unifies the skin tone.  
Recommendations for applying the product
Smooth it on daily as the end of your bodycareritual when you come out of the shower. Despite its very rich texture, it will be quickly absorbed by your skin after instantly melting upon it. Thanks to its concentrated formula, a small amount is enough to cover the entire body, leaving a non-sticky protective veil that maintains your skin fresh and silky all day long. 
Bonus MAXIMIZE with the Luxurious Gua Sha
Did you know that the Gua Sha comes from traditional Chinese medicine? It was originally used to treat some of the initial signs of illness, like fever. The ancestral movements with the Gua Sha have been adapted to skincare for its significant benefits, as it tones muscles, reaffirms tissues with a lifting effect, promotes the skin's oxygenation, improves circulation and helps to reduce the appearance of wrinkles, fine lines and cellulite. 
We've created the Luxurious Gua Sha by Miriam Quevedo, a precious tool made of white jade, so that you can enjoy an authentic at-home spa. Use it to massage your body and you'll obtain the following benefits: 
Oxygenates: stimulates circulation, the lymphatic system and removes toxins 
Activates: reaffirms, models and potentiates the skin's elasticity 
Enhances: activates both collagen and elastin for a toning effect 
Like all of the Miriam Quevedo Treasures, our bodycare ritual has been developed as a complete experience, including the stimulation of all of the senses, including the sense of smell. The delicate fragrance of the Glacial White Caviar Precious Body Collection has been created exclusively for Miriam Quevedo by the best perfumers in Grasse (France). Seduce yourself with its citric floral scent, with notes of bergamot, lemon, magnolia, rose, jasmine, sandalwood, patchouli and vetiver. 
Now that you know how to regenerate the body's skin thanks to our bodycare ritual, are you going to keep on hydrating it or are you going to nourish it while reversing the signs of aging?