Achieving Healthy and Beautiful Hair at Home
Like everything else, Valentine's Day is bound to be quite different this year. Whether you want to look your best for an at-home date or simply want to treat yourself to some love instead, we have a great proposal for a haircare ritual that will have you reaping benefits well beyond Valentine's Day.
The Black Baccara Haircare Collection was created to go beyond making your hair look its best, working to maintain its health from roots to tips. It includes a Hair Multiplying Shampoo, Mask, and Serum that repair and strengthen your hair with every use, as well as a daily treatment that nourishes the scalp and stimulates growth.
To complete the collection, we created a potent hair repairing treatment that turns even very damaged hair into silky, smooth tresses, all while providing a boost of nourishment to the scalp and the hair follicles. The Black Baccara Bond Rejuvenating Luxe Cure is a shock treatment that targets damaged areas and epigenetic factors to restore vitality and elasticity. It works to fill and repair broken bonds and linkages, reviving dry, dull, and chemically processed hair instantly and working to maintain its health for the long term.
Ingredients and Benefits
The powerful action of the Black Baccara Bond Rejuvenating Luxe Cure is made possible by a potent cocktail of plant-based active ingredients.
The treatment is packed with the two key ingredients present in the entire collection. Fresh Rose Stem Cells, extracted from the highly resistant alpine rose, preserve and regulate the function of the hair's stem cells to increase their vitality and protect against environmental stress. Black Baccara Rose Youth Concentrate is an anti-aging powerhouse that defends cells from cycle variations. This ensures hair's growth biological clock is running undisturbed and premature ageing is prevented, with added support from the antioxidant action of 24K Gold Flakes.
The Black Baccara Bond Rejuvenating Luxe Cure also includes ingredients that work at a molecular level to directly target the structure of the hair. These include 100% natural Vegan Keratin and a Multi-bond Filler that deeply penetrates the hair cortex to renew and reconnect hydrogen and ionic bonds damaged or broken by chemical treatment or hair coloring, restoring strength and elasticity back to levels of virgin hair.
For extra benefits and a touch of luxe, we've incorporated 24K Gold Flakes into the Black Baccara Bond Rejuvenating Luxe Cure. They make this the perfect treatment ahead of a special event, precious in every sense of the word. The gold flakes provide extra repairing benefits, helping you achieve at home the silky, shiny, and fortified hair you'd expect from a salon treatment.
All these ingredients, and more, are why the Black Baccara Bond Rejuvenating Luxe Cure is such an exquisite and extraordinary treatment. Its benefits are immediately visible on the outside, while also acting deeply into the structure of the hair and the follicle, for an all-round treatment like no other.
Discover all the ingredients on the product's page.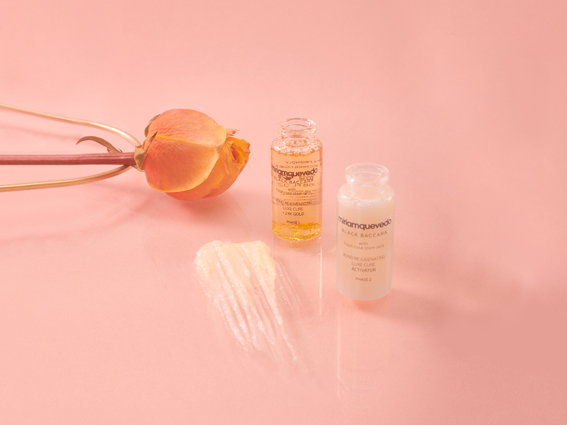 The Ritual
Prepare your hair for treatment by cleaning it with the Black Baccara Hair Multiplying Shampoo. Combine the Phase 1 and Phase 2 vials of the Black Baccara Luxe Cure in the beaker provided. If the liquid in the Phase 2 vial has solidified, submerge it in warm water for up to 7 minutes to bring it back to liquid state before mixing.
Use the brush provided with the treatment to blend well and then apply the rich, creamy mixture from just below the roots to the tips. Work in sections and also comb your hair after applying to distribute the treatment well. Let the Black Baccara Bond Rejuvenating Luxe Cure act for at least 20 minutes before rinsing.
For Valentine's Day, or just because, the Black Baccara Bond Rejuvenating Luxe Cure will have you fall in love (again) with your hair!