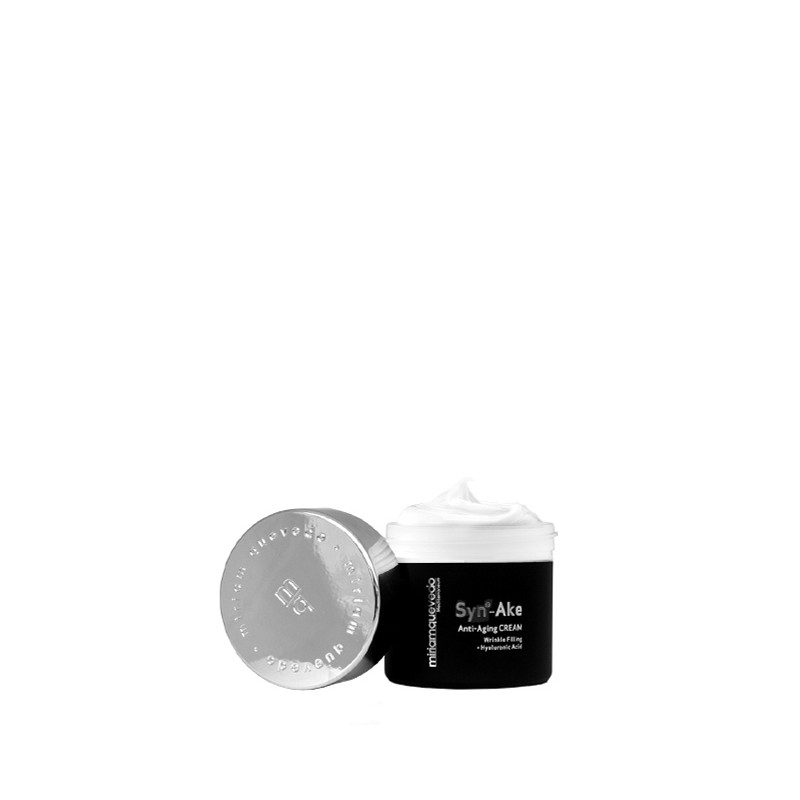 SYN®-AKE ANTI- AGING CREAM
50 ml / Net Wt. 1.6 oz
21810002
23 Item Items
Warning: Last items in stock!
Availability date:
What it is: Anti-aging + anti-wrinkles TREATMENT which has a high content in Syn®-ake, a new tripeptide which acts similar to the viper venom which is responsible of the inhibition of muscles contractions. It has Botox® – like effect against expression lines due to repetitive movements of facial muscles.

What it does: New ESSENCE of silky texture highly concentrated in a new tripeptide with an action similar to the venom of the snake TropidolaemusWagleriwhich helps to minimise muscle movement and thus lift wrinkles from within (SYN®-AKE 4%).Our Anti-Aging ESSENCE smoothes and helps to reduce the appearance of expression lines, deep wrinkles and spots, formed by aging, as it contains Collagen, Hyaluronic Acid, Vitamins, Rose Hip Oil (Rose Mosqueta oil) and Aloe Vera extract.It leaves skin feeling silken, smooth and moisturised, with a healthy look and the appearance of youthful radiance, promoting even skin tone by decreasing transfer of dark pigment to the surface of the skin.

Who it´s for: For all skin types: including dry, sensitive, dehydrated.
| | |
| --- | --- |
| Ingredients : | : |
| - : | Syn®-Ake (in high concentration) |
| - : | Hyaluronic Acid |
| - : | Adenosine |
| - : | Hydrolyzed Collagen |
| - : | Organic Aloe vera |
| - : | Vitamin Complex A+C+E |
| - : | Allantoin |
| - : | Rose hip seed oil |
| Benefits : | : |
| - : | Intense Botox effect against wrinkles caused by repetitive facial movement |
| - : | Promotes a clear improvement in skin condition; skin with less wrinkles, rough and/or dry complexion |
| - : | Maintaining great hydration, increasing the volume of skin tissue |
| - : | Increases skin elasticity and suppleness. |
| - : | Regenerating, protective and revitalizing. |
| - : | Increases the stimulation of cell proliferation and tissue rebuilding. |
Apply by gently massaging into the face, neck and chest making especial emphasize in the expression lines (frown, smile and eye contour) until completely absorbed.
Syn©-Ake: Small tri-peptide that mimics the activity of Waglerin 1, a polypeptide that is found in the venom of the Temple Viper, Tropidolaemus wagleri. Targeting neuromuscular activity, it has developed a new snake venomlike active compound which is an antagonist of the muscular nicotinic acetylcholine receptor (nmAChR), with excellent smoothing and fast anti-wrinkle properties.
Adenosine: Nano encapsulated Technology, it helps stimulate DNA synthesis, increases protein synthesis, and increases cell size. The enhancement of skin will decrease the amount of wrinkling, roughness, dryness, laxity, sallowness, or pigmentary mottling in skin.
Hyaluronic Acid: Polisacharid which it allows a tridimensional organization of extracellular matrix constituents. It has a strong moisturizing effect because it has de capability of retaining a large quantity of water, maintaining the proper skin hydration and increasing the tissue volume in folds and wrinkles which helps to blur the wrinkle.
Hydrolyzed Collagen: Increases the cutaneous elasticity and suppleness.
Organic Aloe Vera: With moisturizing, astringent and soothing properties.
Vitamin Complex A+C+E: Contains three antioxidant vitamins which act as a protective shield against oxidative stress.
Allantoin: Enhances cell renewal, skin soothing, skin moisturizing, cleansing and healing action.
Rose Hip Seed Oil: Obtained from wild rose seeds, it is extraordinary rich in poly-unsaturated fatty acids and has very powerful regenerating and moisturizing effect.