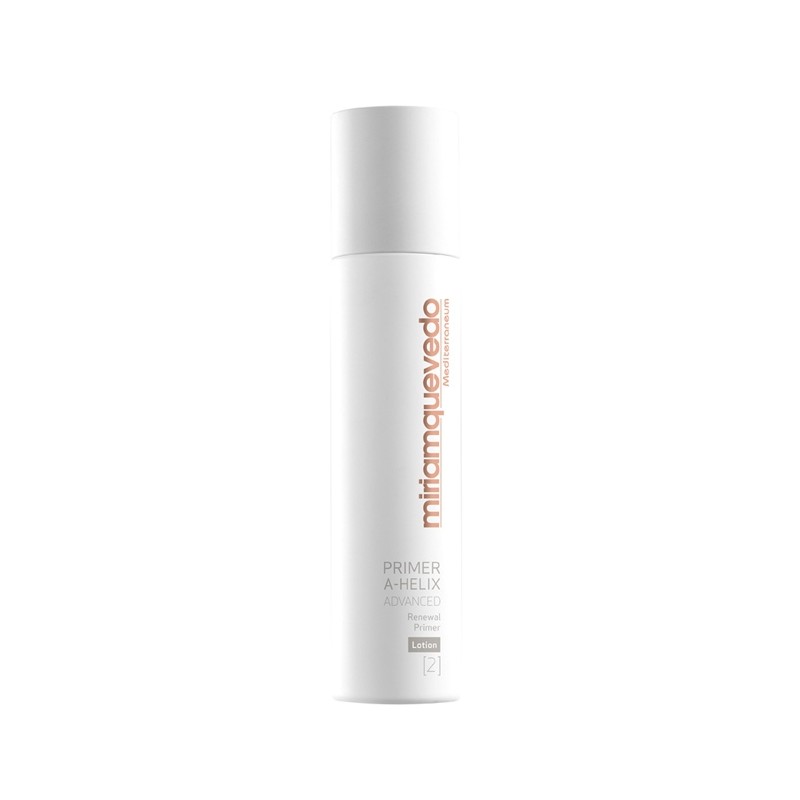 A-HELIX ADVANCED RENEWAL PRIMER LOTION
23 Item Items
Warning: Last items in stock!
Availability date:
What it is: Mild exfoliating toning lotion that acts as an exquisite refreshing booster, refiner and exfoliator. Provides a primer basis for the skin that improves penetration and enhances the benefits of applied products below. Mild exfoliating and primer skin refiner

What it does: With multi-perfection ingredients and thanks to its high concentration in Gluconolactone, produces a soft exfoliating action, without irritating, that helps to remove dead skin cells and accelerates the cell proliferation avoiding skin aging, keeping it hydrated and protected. Release the skin of impurities soothes pores and redefines texture thanks to its exclusive active ingredients for a soft and luminous skin instantly. Perfectly prepared skin, smooth and renewed instantly.

Who it's for: For all skin types.
| | |
| --- | --- |
| Ingredients : | : |
| - : | Dragon's Blood |
| - : | Biologic Proteic Plasma (SHA) |
| - : | Gluconolactone 6%(PHAs: Poly Hydroxy Acid) |
| - : | Thermal Water |
| - : | Organic Elderberry Flower Water & Calendula Flower Extract |
| - : | Luxurious renewal lotion designed to combat the aging process |
| - : | Provides a primer basis for the skin. Prepares, improves penetration and enhances the benefits of applied products below. |
| - : | Provides a gentle exfoliation helps remove dead cells, smoothing pores and redefines the texture of the skin while moisturizes and protects. |
| - : | Release impurities and residues from skin. |
| - : | Regulates keratinization, normalizes the thickness of the stratum corneum. |
| - : | It stimulates cell proliferation: promotes and accelerates the repair and renewal of skin tissue, preventing the aging of the skin. |
| - : | Calms, relaxes, tones with anti-inflammatory properties. |
| -- : | Restores the skins essential minerals. |
| - : | Skin becomes more healthy, clean and radiant. |
| - : | It brings light and freshness, improving skin texture instantly. |
| - : | Softens and conditions the skin. |
| - : | Alcohol-free. Sulphates-free. Paraben-free. Paraffin-free. Mineral oil-free. Petrolatum-free. |
Step 2 of the Ritual
Use daily in the morning and night after cleansing the skin with Primer Cleansing Balm or Gel, or alone. Apply the lotion on two cotton and spread gently over the face, neck and neckline with gentle circular movements. Then with both hands make a slight pressure on the skin to help the product to penetrate. Continue your treatment Miriam Quevedo to complete your ritual. Avoid contact with eyes and mucous membranes.
Dragon's Blood: Organic reddish sap with highly renewal properties, restorative, antioxidant and anti-aging. Visibly reduces the appearance of skin imperfections.
Clinical Studies in Vitro: an increase of 86% of cell migration.
Biologic Proteic Plasma (SHA): natural ingredient that comes from a selection of secretions of Helix Aspersa Müller that intensely stimulates the cellular proliferation and actives the tissue regeneration. Anti-imperfections: help to prevent new ones from forming. With natural peptides that help to rebalance the skin flora.
Gluconolactona 6% (PHAs): Poly-hydroxy acid with exfoliating surface action that improves the epidermal barrier, renews the skin surface, reduces water loss and improves skin protection against solar radiation. Help with acne treatments, sensitive or irritated skin.
Clinical studies: Accelerates cell renewal up to 17%
Thermal Water: Mineromedicinal water from Hot Springs Salies de Bearn des Gaves (France). Rich in Calcium, Magnesium, Iron, Manganese, Zinc and Copper.
Organic Elderberry Flower Water: Rich in flavonoids (antioxidants), calms, relaxes, tones and has anti-inflammatory properties.
Organic Calendula Flower Extract: Anti-irritant, protective, soothing and healing properties. It stimulates skin defenses.