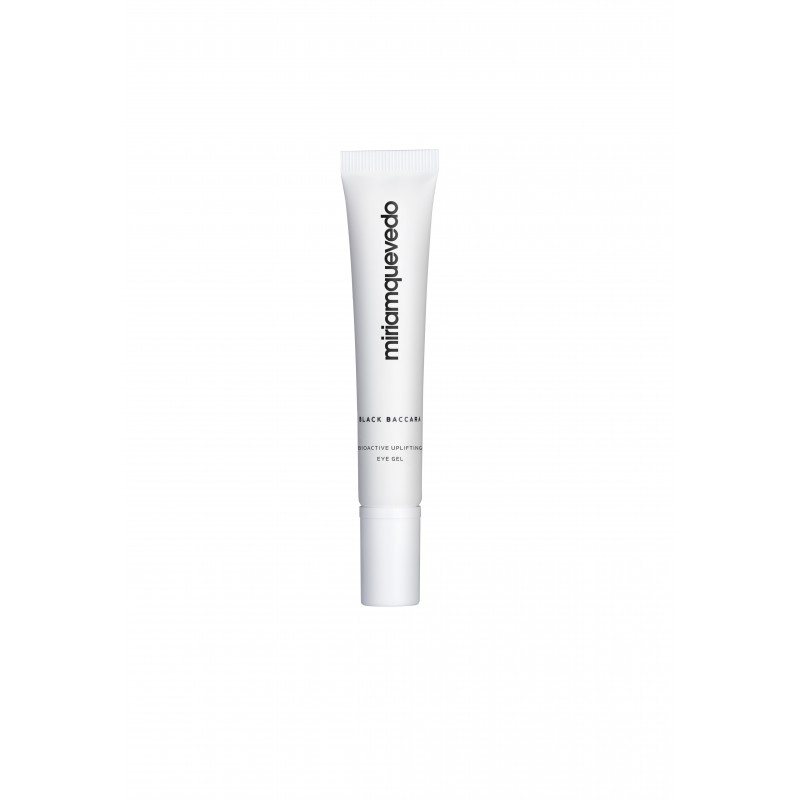 BLACK BACCARA BIOACTIVE UPLIFTING EYE GEL
20 ml / 0.7 fl.oz
21710004
25 Item Items
Warning: Last items in stock!
Availability date:
What it is: Instant eye lift.
What it does: Reverse the signs of aging with this multi-perfecting eye gel. The delicate texture formulated with our proprietary Anti-glycation Persian Silk Tree extract is instantly absorbed, creating an immediate lifting effect while eliminating wrinkles, crow's feet, dark circles and puffy eyes. Eyes instantly look more awake with restored youth and radiance. 
Who it's for: For all skin types, especially those with: signs of aging, puffiness and bags, droopy eyelids, signs of fatigue. 

Clinical Studies: 
85% agree it provides skin with elasticity and flexibility
81% agree eye area looks younger
89% agree it is mild for the delicate eye area
100% agree it provides comfortable skincare
78% agree skin is firm and tight
70% agree it reduces dark circles and puffy eyes
*in vivo study of 27 volunteers, 3 weeks of regular use, twice daily (morning and night). 
| | |
| --- | --- |
| Ingredients : | : |
| - : | Rare Black Baccara Bio-adaptive Concentrate |
| - : | Extracto Antiglicación del árbol de la Seda Persa |
| - : | Complejo de Reestructuración de la Matriz Extracelular |
| - : | Pantenol |
| - : | Aminoácido Betaína |
| - : | Alantoína |
| - : | Aloe Vera Orgánica |
| Benefits : | : |
| - : | Corrige los signos visibles del envejecimiento del área del contorno de los ojos, incluyendo párpados caídos, ojeras, bolsas, patas de gallo, arrugas y la pérdida de firmeza y brillo |
| - : | Crea un efecto lifting instantáneo y proporciona firmeza en el contorno del ojo |
| - : | Elimina los signos de fatiga, reduce la hinchazón y las ojeras bajo los ojos |
| - : | Mejora la elasticidad y estimula la producción de colágeno reduciendo drásticamente líneas, arrugas y patas de gallo, para una piel visiblemente más joven |
Use daily, day and night after Boosters application. Dab a small amount, about the size of a rice grain, to the under eye area. Use your ring finger to gently smooth around the lower and upper eye area. Finish by gently tapping the upper and lower eye area to stimulate a microcirculation and de-puff eye area. Continue until fully absorbed.
Tip: To enhance the lifting effect, use your opposite hand to hold the skin above your eyebrow upward while applying the gel from the inner corner of the under eye area to the eyelid forming a C-shape.
Rare Black Baccara Bio-adaptive Concentrate: Creates an ideal micro-environment to protect against negative epigenetic factors (stress, lack of sleep, poor diet, etc.) that can lead to accelerated aging. Detects skin's exact needs and adapts to provide necessary protection against internal and external stressors. Regulates cellular "clock" that can be offset by our lifestyle ensuring cells function properly.
Anti-glycation Persian Silk Tree extract: Combats wrinkles, crow's feet, dark circles and bags. Reduces signs of fatigue, unifies skin tone and creates an upper eye lifting effect while it protects, strengthens and improves skin's properties.
Extracellular Matrix Restructuring Complex: Restructures extracellular matrix, leaving it better organized, with optimal hydration, elasticity and flexibility. Provides an instant tightening and firming effect. Decreases the number and depth of wrinkles. Instantly firmer and visibly younger skin.
Panthenol: Hydrates skin, increases cell renewal, removes and diminishes imperfections, and provides anti-inflammatory properties. Increases skin´s elasticity and smoothness.
Amino Acid Betaine: Derived from sugar beets. Hydrates, maintains water balance and protects against irritants.
Allantoin: Increases cellular renewal and delivers high moisturizing, calming and soothing properties. Restores skin's surface, diminishes imperfections.
Organic Aloe Vera: Protects skin from daily aggression, hydrates and prevents dehydration.