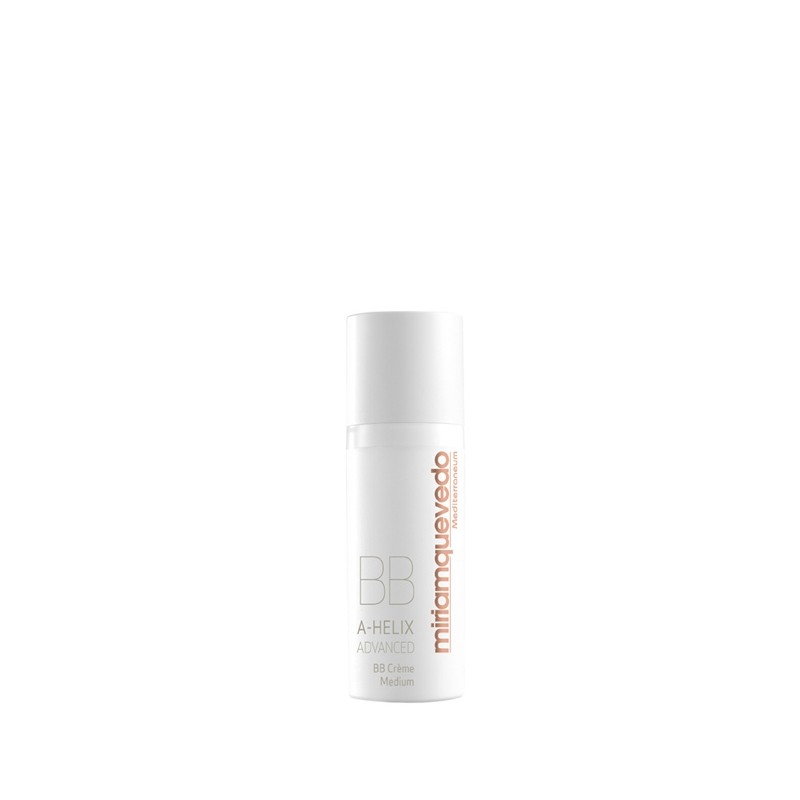 A-HELIX ADVANCED RENEWAL BB CREAM MEDIUM
23 Item Items
Warning: Last items in stock!
Availability date:
What it is: A perfectioning emulsion with highly repairing and renewal active ingredients and intelligent minerals that intensively stimulate the cell proliferation while activating the skin regeneration process.

What it does: Its light formula based on Thermal Water, Biologic Proteic Plasma (SHA) and Dragon's Blood reinforces the natural repairing capacity of the skin providing a unifying effect that hydrates and protects the skin from environmental stress favouring the balancing of skin flora. Enriched with Pomegranate Extract and Vitamin E gives antioxidant properties as well as smoothing and renewing the dermal texture with more elasticity and flexibility.

Who it's for: For all skin types.
| | |
| --- | --- |
| Ingredients : | : |
| - : | Dragon's Blood |
| - : | Biologic Proteic Plasma (SHA), |
| - : | Thermal Water |
| - : | Fractioned Hyaluronic Acids |
| - : | Allantoin |
| - : | Vitamin E |
| - : | Pomegranate Extract |
| - : | Smart Mineral Pigments |
| Benefits : | : |
| - : | - Even-toned: evens out the skin tone, a healthy and uniform tone instantly |
| - : | - Repair and Regenerate: stimulate cell proliferation intensively while activates the skin regeneration process due to its high concentration of Dragon's Blood and Biologic Proteic Plasm (SHA). |
| - : | - Correct: corrects and minimizes imperfections such as marks, redness, scars, acne or enlarged pores thanks to its light-weight and soft micro-texture. Ideal for sensitive and reddened skin. Reinforces the natural corrective and repairing capabilities of |
| - : | - Moisturize: provides a light and uniform base that intensively hydrates thanks to its content of Hyaluronic Acid Fraction. Helps to prevent cutaneous dehydration. |
| - : | - Prevents: prevents the appearance of new expression lines and wrinkles improving the flexibility and elasticity of the skin. Smooths and renews its texture. |
| - : | - Rebalance: favours the rebalancing of skin flora and protects against environmental stress. |
| - : | - Protect: thanks to its content of Vitamin E and Pomegranate extract has a great antioxidant power acting against the agents that cause skin aging. Also, acts against the UVA and UVB rays due to its solar filters (SPF 30). |
| -- : | - Smooth: promotes a smoother, softer and healthier look. Wrinkles and expression lines seem to vanish. |
| - : | - Regulate: astringent and sebum-regulating activity |
| - : | - Brightens: enhances and promotes a brighter, flawless, smooth and renewed skin. Recovers a natural and uniform look. |
| - : | Ilumina: una tez luminosa, impecable, lisa y renovada. Recobra un aspecto uniforme y natural. |
Apply every morning as the last step for the usual skincare program. Spread evenly over your face, neck and neckline until it's completely absorbed. It provides a natural and flawless look.
Tip: In areas with higher imperfections re-apply a small quantity with gentle touches until it's completely absorbed. It can be used either alone or under the makeup foundation.
Dragon's Blood: Organic reddish sap with highly renewal properties, restorative, antioxidant and anti-aging. Visibly reduces the appearance of skin imperfections.

Biologic Proteic Plasma (SHA): Natural ingredient that comes from a selection of secretions of Helix Aspersa Müller that intensely stimulates the cellular proliferation and actives the tissue regeneration. Anti-imperfections: help to prevent new ones from forming. With natural peptides that help to rebalance the skin flora.
Thermal Water: Mineromedicinal water from Hot Springs Salies de Bearn des Gaves (France). Rich in Calcium, Magnesium, Iron, Manganese, Zinc and Copper.
Hyaluronic Acid Fraction: Combination of different type of molecular weights. Strong moisturizing power, increases skin suppleness. Amazing improvements in flexibility and forming a protective film. It has an intense lifting effect.
Clinical Studies.
Allantoin: Improves cell renewal, elimination or reduction of irritations and skin imperfections.

Vitamin E: High antioxidant powder. Provides flexibility, firmness and slows the aging process.
Pomegranate Extract: Antioxidant, photo-protective, anti-aging, anti-inflammatory and soothing properties.
Mineral Pigments: Match skin tone, light and uniform color. Velvety matte appearance.