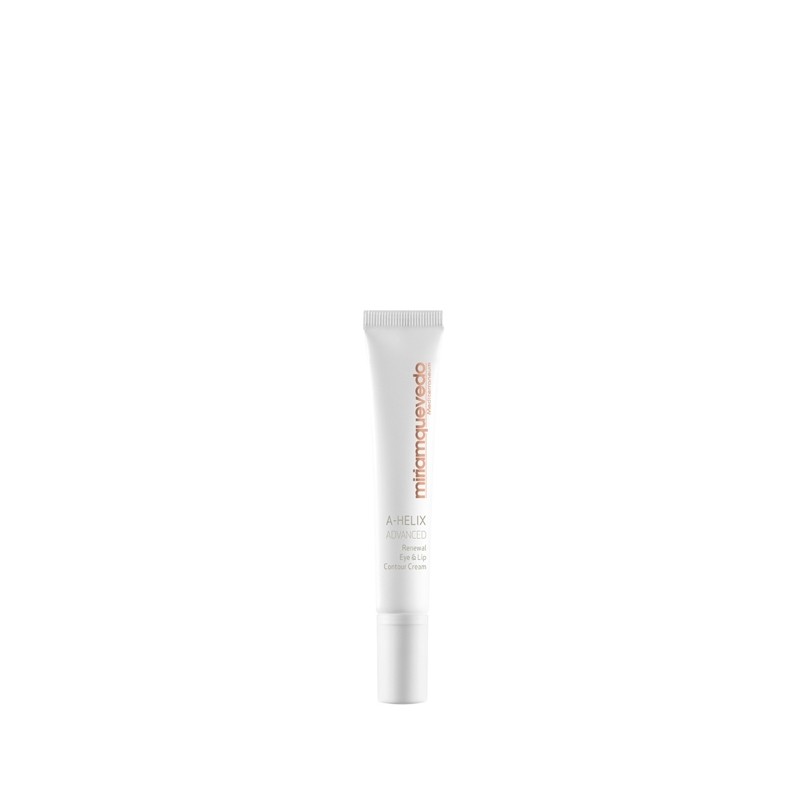 A-HELIX ADVANCED RENEWAL EYE  & LIP CONTOUR CREAM
23 Item Items
Warning: Last items in stock!
Availability date:
What it is: An intensive multi-benefit repairing serum for the eye and lip areas. Delicate, silky and rich formula that contains a powerful combination of natural, high-performing ingredients such as Thermal Water, Biological Protein Plasma (SHA)and Dragon's Blood to enhance skin´s natural repair process.

What it does:  With a rapid action, it has a lifting, filler and remodelling effect acting on wrinkles, crow's feet, puffiness, dark circles and other signs of aging in the contour area. A solution that instantly softens, nourishes, firms and reshapes the areas of eye and lip contours. The skin recovers its vitality and natural radiance instantly.

Who it's for: All skin types.
| | |
| --- | --- |
| Ingredients : | : |
| - : | Dragon's Blood |
| - : | Biologic Proteic Plasma (SHA) 25%, |
| - : | Thermal Water, |
| - : | Matryxil |
| - : | Acid Hyaluronic Fraction |
| - : | Encapsulated Adenosine, |
| - : | Organic Aloe Vera and Shea Butter |
| - : | Remodeling Plant Extract |
| - : | Vitamin A,C, E |
| - : | Allatoin, and Hydrolyzed Collagen |
| - : | Ceratonia Siliqua, |
| - : | Organic Tomato Distilled Water |
| - : | Rose Hip seed Oil |
| Benefits : | : |
| - : | Repairing and anti-aging treatment that acts against expression lines, wrinkles, dryness, density and firmness |
| - : | Lifting effect, wrinkle filler and instantly remodelling. |
| - : | Significantly minimize the appearance of wrinkles and fine lines, crow's feet, puffiness, etc. |
| - : | Acts against the agent that causes the major signs of skin aging in the areas around the eyes and lips. |
| - : | Helps to stimulate cell proliferation intensively. |
| - : | It has highly renewal and repairing properties. |
| - : | Helps to activate the renewal process of the skin |
| -- : | Improves elasticity, flexibility and skin density. |
| - : | Helps to prevent dehydration. |
| - : | Rich in high-performance natural peptides that protect the skin from environmental stress and promote the rebalance of the skin flora. |
| - : | Intensive solution that softens, nourishes firms and soothes the skin area |
| - : | Fast-penetrating treatment, super-potent action |
Use daily, morning and /or evening apply an amount equivalent to a small pearl (one pump of product). Apply using a light touch on the upper and lower eyelid and on the outside until it's completely absorbed. Repeat the process on the lips contour.
During the day provides an excellent base for eye makeup. At night provides the maximum repairing properties for the fragile area around the eyes and lips.
Dragon's Blood: Organic reddish sap with highly renewal properties, restorative, antioxidant and anti-aging. Visibly reduces the appearance of skin imperfections.
Clinical Studies in Vitro: an increase of 86% of cell migration.
Biologic Proteic Plasma (SHA) 25%: natural ingredient that comes from a selection of secretions of Helix Aspersa Müller which intensely stimulates the cellular proliferation and actives the tissue regeneration. Anti-imperfections: help to prevent new ones from forming. Rich in natural peptides that help to rebalance the skin flora.
Thermal Water: Mineromedicinal water from Hot Springs Salies de Bearn des Gaves (France). Rich in Calcium, Magnesium, Iron, Manganese, Zinc and Copper.
Matryxil: wrinkle filler which continuously covers the holes located within the matrix of the mature skin dermis to provide a firmness skin.

Hyaluronic Acid Fraction: Combination of different type of molecular weights. Strong moisturizing power, increases skin suppleness. Amazing improvements in flexibility and forming a protective film. It has an intense lifting effect.
Clinical Studies.
Encapsulated Adenosine: nucleoside that increases collagen synthesis. Wrinkles and imperfections are reduced, the tone and texture unified.
Clinical Studies.
Organic Aloe Vera: high hydration, protection against daily aggressions, combats dryness and prevents the dehydration.
Remodeling Plant Extract Acmella Spilanthes flower Extract. Strengths the dermal structure and provides a reaffirming and lifting effect. Improves skin surfaces and reduces while reduces wrinkles from the first application. The skin is firmer and smoother.
Clinical studies show efficacy in the crow's feet from the first application, the surface wrinkles can be reduced by up to 51%.
Vitamin A, C, E: Protective shield against oxidative stress.
Allantoin: Improves cell renewal, elimination or reduction of irritations and skin imperfections.
Ceratonia Siliqua: Immediate skin tensor.
Organic Tomato Distilled Water: Rich in Vitamin C that provides a high antioxidant protection for the skin.
Hydrolyzed Collagen: Increases elasticity and flexibility of the skin.
Rose Hip Seed Oil (Rosa Canina): Rich in poly-unsaturated fatty acids, high restorative capacity of the epidermal barrier. Provides a great hydration.
Organic Shea Butter: restores the epidermal barrier. More flexible and functional skin.