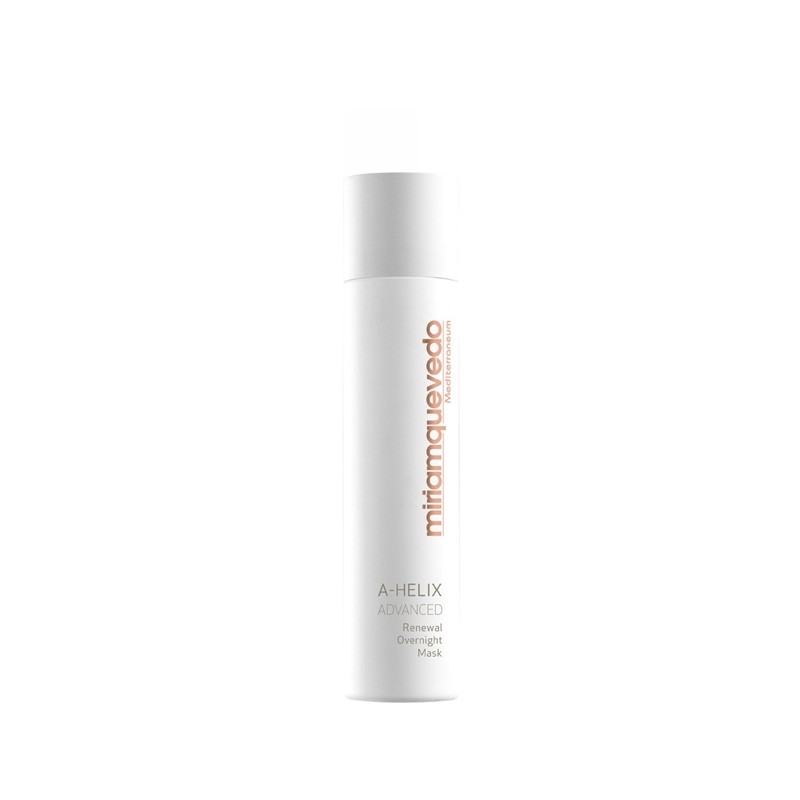 A-HELIX ADVANCED RENEWAL OVERNIGHT MASK
9 Item Items
Warning: Last items in stock!
Availability date:
What it is: Discover true skin healing with this overnight face mask. The delicate creamy gel texture melts into skin to repair and regenerate while you sleep so you wake up with a youthful, radiant glow.  
What it does: This overnight shock treatment stimulates the self-healing system of the skin while it strengthens the cellular detoxification process. Not only does it repair and detoxify, it diminishes imperfections and provides the necessary nutrients and energy for visibly healthy, radiant and rejuvenated skin. This exclusive overnight face mask contains a powerful combination of active ingredients such as Biologic Protein Plasma, Thermal Water, Vitamin B5 and Organic Aloe Vera to provide ultra-repairing and protecting properties and restore skin's balance and hydration.
Who it's for: For all skin types. Including damaged and sensitive skin.
| | |
| --- | --- |
| Ingredients : | : |
| - : | Dragon's Blood |
| - : | Biologic Proteic Plasma (SHA) 15%, |
| - : | Thermal Water |
| - : | Cell-Detox Booster |
| - : | Organic Aloe Vera |
| - : | Desensitizing Hexapeptide |
| - : | Allantoin |
| - : | Vitamin A,C,E |
| - : | Panthenol |
| - : | Organic Calendula and Elderberry extract |
| - : | Cooling Touch. |
| Benefits : | : |
| - : | Multi-functional dermo-repairing and renewal overnight mask. |
| - : | Renewal, repairing and regenerating properties. |
| - : | Helps to activate skin regeneration. |
| - : | Restores the balance of the skin, protects and moisturizes intensely. |
| - : | Reinforces the detoxification process of the skin cells. |
| - : | Provides a pleasant feeling of freshness and comfort. |
| - : | Helps to prevent dehydration, improves flexibility and elasticity of the skin. |
| -- : | Prevents the appearance of new lines and wrinkles. |
| - : | Anti-imperfections: suitable for healing treatments for acne, aging, minimizing scars, blemishes, irritation and/or redness. |
| - : | Reduces neurogenic inflammation and relieves itchy skin. |
| - : | Calms, relaxes and tones the skin also has anti-inflammatory properties. |
| - : | Repairs the skin by stimulating the self-healing system. |
| - : | Helps in the renewal process of the skin for a healthy appearance, helping to prevent the formation of spots and rashes. |
Use before bedtime. Apply a generous amount to clean dry skin across the face, neck and neckline (avoid contact with eyes). Massage in gently until absorbed. Allow the potent active ingredients to work while you sleep and then continue with your usual cleansing ritual in the morning.

Miriam's Beauty Tip: You can also use the overnight face mask during the day as a rescue therapy for severely dry skin. Simply apply for 10-20 minutes then gently rinse with warm water and pat dry.
For a greater sense of freshness, we recommend storing the mask in the refrigerator after each use.
Dragon's Blood: Organic reddish sap with highly renewal properties, restorative, antioxidant and anti-aging. Visibly reduces the appearance of skin imperfections.

Biologic Proteic Plasma (SHA): natural ingredient that comes from a selection of secretions of Helix Aspersa Müller that intensely stimulates the cellular proliferation and actives the tissue regeneration. Anti-imperfections: help to prevent new ones from forming. With natural peptides that help to rebalance the skin flora.
Thermal Water: Mineromedicinal water from Hot Springs Salies de Bearn des Gaves (France). Rich in Calcium, Magnesium, Iron, Manganese, Zinc and Copper.
Cell-Detox Booster: It boosts the autophagy system. Reinforces the cell detoxification process of accumulated cells and improves radiance of intoxicated skin.

Organic Aloe Vera: high hydration, protection against daily aggressions, combats dryness and prevents the dehydration.
Desensitizing Hexapeptide: Attenuates neurogenic inflammation, itchiness and redness related to sensitive skin. Improves hydration, scaling, smoothness and flexibility helping to restore the damaged cutaneous barrier function (protector effect).

Allantoin: improves cell renewal, elimination or reduction of irritations and skin imperfections.
Vitamin A, C, E: Protective shield against oxidative stress.
Panthenol: Pro-vitamin B. Increases the level of hydration, anti-inflammatory. It provides elasticity and smoothness.
Organic Calendula and Elderberry Extract: Rich in flavonoids (antioxidants), calms, relaxes, tones and has anti-inflammatory properties.Protective, soothing and healing properties. It stimulates skin defenses.