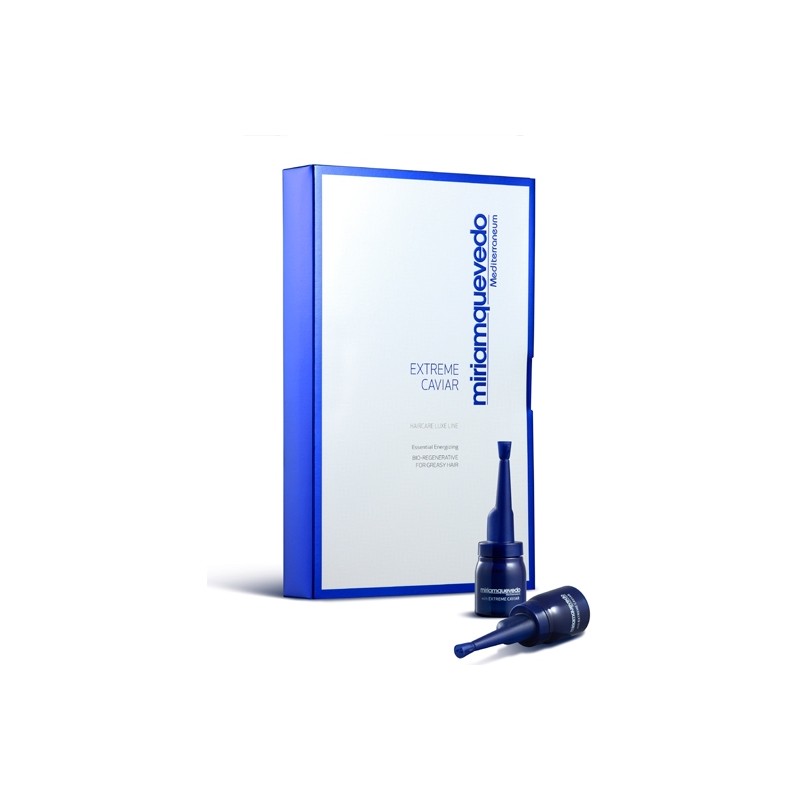 EXTREME CAVIAR ENERGIZING BIO-REGENERATIVE FOR GREASY HAIR
15 Item Items
Warning: Last items in stock!
Availability date:
What it is: Essential Bio-regenerative and energizing concentrate formulated with Caviar and exclusive active ingredients to regulate excess oil production.
What it does: Intensive shock treatment diminishes scalp sebum. Helps to regulate sebaceous glands and to regenerate the corneous layer. Also promotes proper protein synthesis, enhancing the follicle's regeneration capacity to strengthen hair.
Who it's for: For all hair types who suffer from excess oil production.
What it's free of: Formulated without Parabens, Mineral Oils, Phthalates, Paraffin or Petrolatum.
| | |
| --- | --- |
| Ingredients : | : |
| - : | Tioxolone |
| - : | Protein Complex 5 Minerals |
| - : | Cegaba |
| - : | Organic Silicon |
| - : | Menthol |
| - : | Multi-vitamin B Complex |
| - : | Organic Nettle Extract |
| - : | Caviar |
| - : | PARABEN FREE. MINERAL OIL FREE. PHTHALATES FREE. PARAFFIN FREE. PETROLATUM FREE. |
| - : | SIN PARABENOS. SIN ACEITE MINERAL. SIN FTALATOS. SIN PARAFINA. SIN PETROLATUM. |
| Benefits : | : |
| - : | Helps to regulate sebaceous glands. |
| - : | Helps to regenerate the corneous layer. |
| - : | Has regenerative properties of the scalp. |
| - : | Promotes proper protein synthesis, enhancing the follicle's regeneration capacity to improve and strengthen the hair's condition. |
| - : | Acts as a booster for other capillary products thanks to its hydration and ability to normalize the keratinization processes. |
| - : | Growth factor: can stop and revert hair loss. |
| - : | Helps to diminish scalp sebum and dandruff. |
| -- : | Refreshing properties. Stimulates a cooling sensation. |
Before bedtime, apply 1/3 of the vial to the scalp to dry or damp hair and gently massage until completely absorbed. Allow the state-of-the-art, exclusive active ingredients to penetrate your hair overnight. Continue with your normal routine the following day.
Caviar: One of the most exclusive anti-aging ingredients given its abundant composition of essential amino acids, structuring peptides, proteins, essential fatty acids and trace elements. Intensely protects both hair and scalp and restructures broken down Keratin, all while restoring hydration, strength, and elasticity for more vibrant, youthful-looking hair.
5 Trace Elements Complex: Made up of magnesium, iron, zinc, copper and silicium it prevents 5-alpha reductase from converting Testosterone to Dihydrotestosterone (DHT), DHT is the leading cause of hair loss. Provides cells with critical nutrients to ensure strong division of cells and optimal hair growth.
Cegaba: Neuromodulator which stimulates mitosis (cell division), producing the regeneration of the corneous layer. A scientifically proven growth factor that can stop and reverse hair loss. It prolongs hair growth and follicle fortifying phases, making hair more resistant. Decreasing sebum and dandruff on the scalp. Hair lasts longer, and it is stronger and thicker. Avoids follicle death.
Tioxolone: Rich in sulfur it regulates sebaceous gland activity to eliminate excess oil production.
Organic Silicon (Silicium): High concentration. A necessary element for hair grow. Clinically shown to prevent hair loss and increase density.
Menthol: Has anesthetic and cooling properties (analgesic). Decongestant action and antiseptic.
Multi-vitamin B Complex: Cocktail of five B vitamins (Thiamine – B1, Riboflavin -B2, Nicotinamide - B3, Pantenol- B5, and Pyridoxine - B6), defends against oxidative stress, increases the protective and regenerative properties of hair´s natural keratin and promotes healthy hair growth.
Keratin Peptide: Repairs, replenishes and protects Keratin, the key structural component found in hair. Smoothes hair's surface resulting in a natural and beautiful luster while creating a protective film to protect against thermal damage. Restores hair fiber giving it body, volume and shine.
Organic Nettle Extract: Astringent properties.