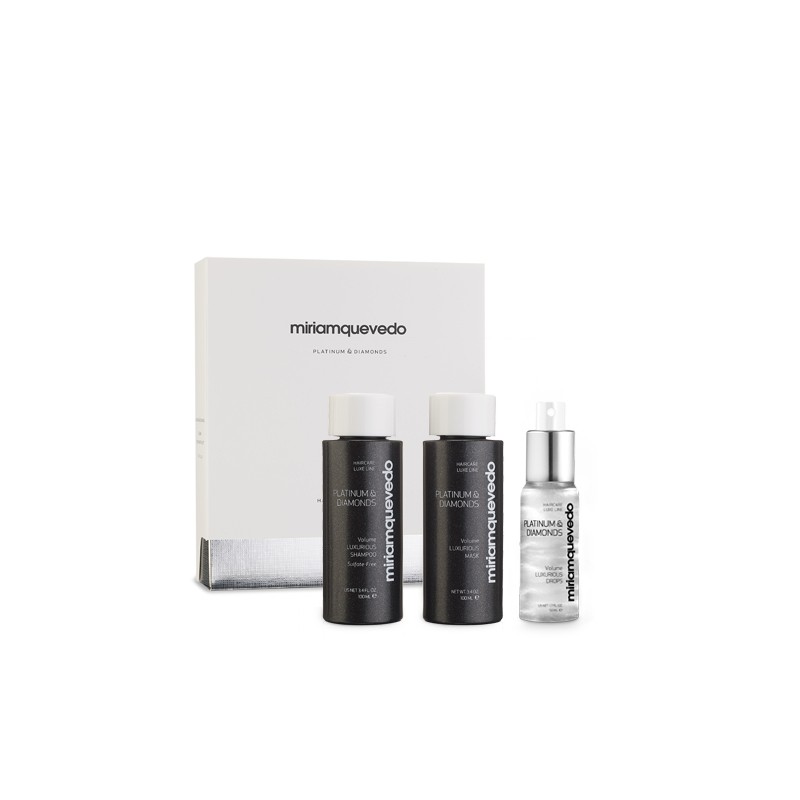 PLATINUM & DIAMONDS GLOBAL REJUVENATION SET
Platinum & Diamonds Luxurious Shampoo 100 ml / 3.4 oz  
Platinum & Diamonds Luxurious Mask 100 ml / 3.4 oz
Platinum & Diamonds Luxurious Drops 50 ml / 1.7 oz
11310017
14 Item Items
Warning: Last items in stock!
Availability date:
What it is: 
Portable luxury at its best. An indulgently luxurious haircare ritual formulated with Caviar and Platinum & Diamond Powder to repair damaged hair while creating ultra-volume that has been lost over time.
What it does:
This complete ritual reverses the signs of aging while creating sensational volume. Deluxe mini-sizes travel with you to keep your hair gorgeous on the go.
Who it's for:
For all hair types, especially fine hair with little volume. Suitable for keratin treated hair. 
What it's free of:
Formulated without Parabens, Sulfates, Mineral Oils, Phthalates, Paraffin, Petrolatum 
Platinum & Diamonds Luxurious Shampoo: Shake before use. Apply to wet hair and scalp. Massage in gently to create a lather. For optimal results, leave on for 2 to 5 minutes. Rinse thoroughly. In case of contact with eyes, rinse immediately.
Platinum & Diamonds Luxurious Mask: Apply the rich creamy formula to wet hair and scalp, and massage in gently. Comb through hair, working with downward strokes starting from the tips and gradually moving up towards the roots. For optimal results, leave on for 5 to 15 minutes. Rinse thoroughly.
Platinum & Diamonds Luxurious Drops: Shake well to activate the volume- enhancing ingredients. Spray onto dry, styled hair for Diamond Shine and sensational body.
Diamond Powder: Treats the hair and scalp to the quintessential Luxury of Diamond Powder. Great regenerating, moisturizing and nourishing properties, with antioxidant activity. Diamond Powder restores a sensual and unique Diamond shine.

Platinum Powder: One of the world's most precious metals with revitalizing and anti-aging properties. It improves hair elasticity and helps maintain its electrical balance, so that essential substances can be absorbed more easily to keep the hair healthy. It also provides long-lasting hydration, depending on weather conditions. It also gives hair a soft Platinum radiance.

Thermal Water: Mineral water from Hot Springs Salies de Bearn des Gaves. It is classified as sodium chloride and is rich in Calcium, Magnesium, Iron, Manganese, Zinc and Copper.
Organic Argan Oil: Has amazing nourishing and revitalizing properties for the scalp and also strengthens the hair, leaving it soft and shiny.

Organic Acai Extract: Rich in anthocyanins (10 times the antioxidant power of red grapes), minerals and vitamins.

Organic Goji Extract: Concentrate of vitamins (B and C), minerals, amino acids, among others. It has a high antioxidant action.

Keratin Peptide: High film-forming action. Its ultra-repairing and softening properties for the capillary structure, create a protective film that restores the hair fiber, including damaged ones. Brightens, softens and moisturizes. Intense thermal protection.

Marine Collagen Peptide: Softening and conditioning effects. Repairs the damaged structure.

7-Trace Elements Complex: Inhibits the 5-alpha-reductase and influences the follicle's metabolic balance.

Multi-vitamin 8 Complex: Cocktail of 8 vitamins: A, B2, B5, B8, C, E, H and PP. Revitalizing and anti-seborrheic action. Involved in the hair growth metabolism. Strengthens, protects and stimulates.

Protective Hydrolipid film based on coconut and Olive oil: Helps to preserve and restore the hair's protective hydro-lipidic film.

Volume agents: Promote hair volume.

Natural surfactants derived from Coconut Oil and Oat: Ultra-light, smooth and scalp-friendly. Minimizes color fading.