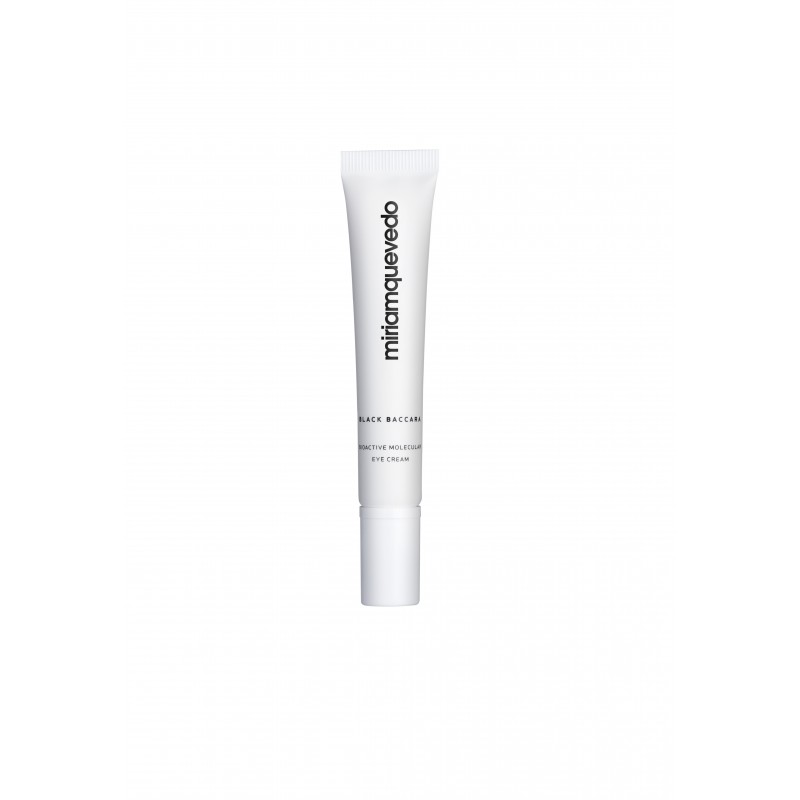 BLACK BACCARA BIOACTIVE MOLECULAR EYE CREAM
20 ml / 0.7 fl.oz
21710005
24 Item Items
Warning: Last items in stock!
Availability date:
What it is: This potent, ultra-lavish formula is formulated with our unique Extracellular Matrix Restructuring Complex that works to repair skin's architecture, restoring density and elasticity to the delicate eye area. 
What it does: Tightens and firms skin while it dramatically diminishes lines, wrinkles and crow's feet for instantly younger-looking eyes. 
Who it's for: For all skin types, especially those with: deep wrinkles and expression lines, dryness and scaling, tight, uncomfortable skin, lifeless, dull skin. 

Clinical Studies: 
92% agree it leaves skin looking visibly plumper
88% agree it makes skin incredibly smooth and radiant 
80% agree the eye area looks younger
84% agree skin is firm and tight
84% agree skin looks renewed
88% agree it provides skin with elasticity and flexibility 
96% agree it provides a feeling of hydration
68% agree lines, wrinkles and crow's feet were visibly reduced
68% agree visible signs of aging were reduced
92% agree it is mild for the delicate eye area
92% agree it provides comfortable skincare
*in vivo study of 25 volunteers, 3 weeks of regular use, twice daily (morning and night). 
| | |
| --- | --- |
| Ingredients : | : |
| - : | Rare Black Baccara Bio-adaptive Concentrate |
| - : | Complejo de Reestructuración de la Matriz Extracelular |
| - : | Mezcla pura de Tocoferoles naturales |
| - : | Aminoácido Betaína |
| - : | Manteca de Karité |
| - : | Aceite de Oliva |
| - : | Aceite de Argán Orgánico |
| - : | Aceite de Almendras Dulces |
| - : | Pantenol |
| - : | Alantoína |
| - : | Aloe Vera Orgánica |
| - : | Manteca de Camomila |
| Benefits : | : |
| - : | Reestructura la matriz extracelular para mejorar la densidad e hidratación de la piel, al mismo tiempo que refuerza la elasticidad y estimula la producción de colágeno |
| - : | Los ojos se ven más jóvenes de forma inmediata, con un efecto reafirmante y tensor instantáneo |
| - : | Disminuye los signos del envejecimiento, rellenando el área del contorno de los ojos y reduciendo drásticamente las líneas de expresión, las arrugas y las patas de gallo para una piel visiblemente más joven |
| - : | Estimula el proceso de renovación de la piel, promueve la resistencia contra el estrés físico y oxidativo y deja el área con un tono más uniforme |
Use daily, day and night after Boosters application. Dab a small amount, about the size of a rice grain, to the under eye area. Use your ring finger to gently smooth around the lower and upper eye area, focusing on areas where wrinkles are present. Continue until fully absorbed.
Rare Black Baccara Bio-adaptive Concentrate: Creates an ideal micro-environment to protect against negative epigenetic factors (stress, lack of sleep, poor diet, etc.) that can lead to accelerated aging. Detects skin's exact needs and adapts to provide necessary protection against internal and external stressors. Regulates cellular "clock" that can be offset by our lifestyle ensuring cells function properly.

Extracellular Matrix Restructuring Complex [Organic Silicium + Marine Collagen]: Restructures extracellular matrix, leaving it better organized, with optimal hydration, elasticity and flexibility. Provides an instant tightening and firming effect. Decreases the number and depth of wrinkles. Instantly firmer and visibly younger skin.
Pure Blend of Natural Tocopherols: Natural antioxidant, moisturizes and helps block free radicals. Maintains cellular structure, improves microcirculation and maintains skin's natural moisture and elasticity. Aids in dermal anti-inflammatory activity.

Amino Acid Betaine: Derived from sugar beets. Hydrates, maintains water balance and protects against irritants.

Shea Butter: Hydrates and protects skin with an invisible barrier. Accelerates tissue growth, providing more flexible, functional skin with a restored barrier.

Olive Oil: Restores skin's barrier function, provides protection and age prevention, smoothes dry and mature skin and refreshes sensitive skin.

Organic Argan Oil: Contains over 80% of unsaturated fatty acids and an abundant amount of vitamin E. High nutritional value for skin, inhibits free radicals, prevents itching, peeling and dehydration.

Sweet Almond Oil: Moisturizing, nutritional and protective properties. Helps improve cell regeneration, elasticity and softens skin.

Panthenol: Hydrates skin, increases cell renewal, removes and diminishes imperfections, and provides anti-inflammatory properties. Increases skin´s elasticity and smoothness.

Allantoin: Increases cellular renewal and delivers high moisturizing, calming and soothing properties. Restores skin's surface, diminishes imperfections.

Organic Aloe Vera: Protects skin from daily aggression, hydrates and prevents dehydration.

Chamomile Butter: Anti-inflammatory and repairing properties. Calms reactive skin and improves texture.