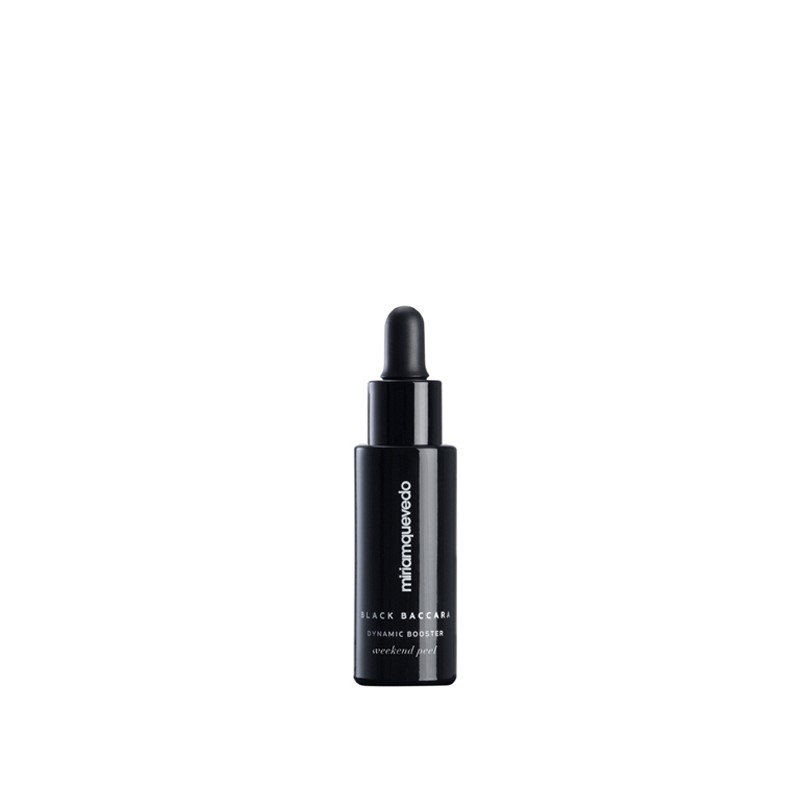 BLACK BACCARA DYNAMIC WEEKEND PEEL BOOSTER
30 ml / 1.01 fl.oz
21710011
25 Item Items
Warning: Last items in stock!
Availability date:
What it is: In-depth renewal for face, neck and cleavage refreshes skin with renewed radiance.

What it does:This Dynamic Booster is packed with gentle AHAs, Fractioned Hyaluronic Acid and Amino Acid Betaine that create a "radiant skin effect" with corrective and perfecting action. Gentle exfoliation and lasting hydration smoothes skin, evens tone and noticeably reduces wrinkles and expression lines. 
Who it's for: For all skin types 


Clinical Studies: 

92% agree it makes skin smooth
88% agree it has a gentle exfoliating effect
83% agree it has a revitalizing effect
83% agree skin looks fresh and healthy
83% agree it makes skin softer
79% agree it enhances skin's renewal process
79% agree it gives a "radiant skin effect"
83% agree it provides comfortable skin care
*In vivo study of 24 volunteers, 3 weeks of regular use, 2 nights a week. 
| | |
| --- | --- |
| Ingredients : | : |
| - : | Rare Black Baccara Bio-adaptive Concentrate |
| - : | Ácido Hialurónico Fraccionado |
| - : | Alfa Hidroxi Ácidos (AHAs) |
| - : | Aminoácido Betaína |
| - : | Pantenol |
| Benefits : | : |
| - : | Re-texturiza la piel, alisando y corrigiendo la apariencia de líneas, arrugas, poros, manchas oscuras y marcas |
| - : | Hidrata profundamente, mejora el nivel de humedad de la piel y fortalece su función de barrera |
| - : | Mejora el proceso de renovación de la piel, revitalizándola y proporcionando un aspecto radiante |
| - : | Deja la piel suave al tacto con una tez visiblemente más uniforme |
Use two times a week at night. Always apply to clean and toned skin.
Use one pipet of the Dynamic Weekend Peel Booster and apply in an outward motion beginning your forehead, nose and cheeks, working your way down to your chin, neck and décolleté until fully absorbed. Do not rinse. Use the Weekend Peel alone, do not blend with other Boosters or Creams. Continue with your normal routine in the morning.
Rare Black Baccara Bio-adaptive Concentrate: Creates an ideal micro-environment to protect against negative epigenetic factors (stress, lack of sleep, poor diet, etc.) that can lead to accelerated aging. Detects skin's exact needs and adapts to provide necessary protection against internal and external stressors. Regulates cellular "clock" that can be offset by our lifestyle ensuring cells function properly.
Fractioned Hyaluronic Acid: Unique combination of thousands of molecular weights to mimic the hyaluronic acid found naturally in our skin. Improves moisture content and elasticity, while strengthening skin's barrier. Fine lines are diminished, wrinkles are reduced by number and depth, skin looks and feels softer, smoother, and plumper.
Alpha Hydroxy Acids (AHAs): Naturally derived from fruit and lactic acids, to evenly and gently exfoliate revealing newer, shinier, healthier skin. Brightens skin, restores a healthy pH, removes blackheads, treats pigmentation and acne and diminishes fine lines.
Amino Acid Betaine: Derived from sugar beets. Hydrates, maintains water balance and protects against irritants.
Panthenol: Hydrates skin, increases cell renewal, removes and diminishes imperfections, and provides anti-inflammatory properties. Increases skin´s elasticity and smoothness.