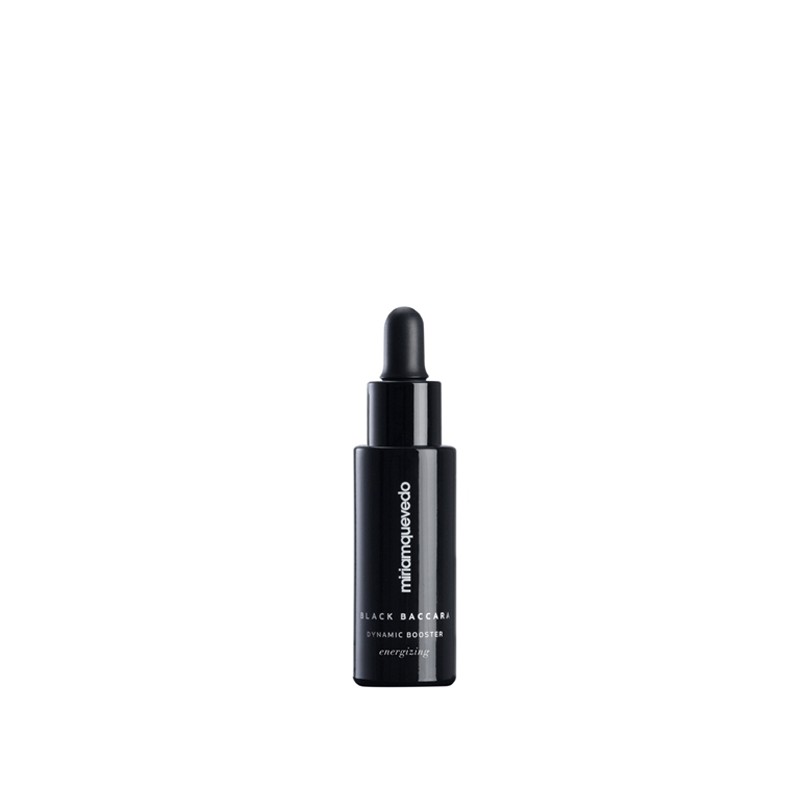 BLACK BACCARA DYNAMIC ENERGIZING BOOSTER
30 ml / 1.01 fl.oz
21710007
25 Item Items
Warning: Last items in stock!
Availability date:
What it is: A breath of fresh air for your skin. This unique oxygenating booster includes our proprietary Tissue Respiratory Factor and Active Oxygen to increase cellular respiration, essential for healthy, energized skin. 

What it does: Rich in Niacinamide and Trace Elements such as iron, copper, zinc, magnesium and silicium, it metabolizes environmental toxins, boosts skin's natural defense system and feeds skin with essential nutrients for a radiant and healthy appearance. 
Who it's for: For all skin types, especially: People who want fast results, those exposed to environmental pollution, blemish prone skin with imperfections, young males, opaque and lifeless skin, frequent travelers and smokers, skin with excess sebum, prone to acne and unbalanced. 


Clinical Studies: 
100% agree it clears up acne and blemishes 
96% agree skin looks fresh and healthy 
92% agree skin has a radiant appearance 
88% agree it provides skin renewal
84% agree it reduces discolorations
84% agree skin is refreshed and glowing after the first application 
80% agree it refines pores
84% agree it controls shine
96% agree it ensures skin protection
96% agree it provides comfortable skin care
*In vivo study of 25 volunteers, 3 weeks of regular use, twice daily (morning and night). 
| | |
| --- | --- |
| Ingredients : | : |
| - : | Rare Black Baccara Bio-Adaptive Concentrate |
| - : | Oxígeno Activo |
| - : | Factor Respiratorio Tisular |
| - : | Niacinamida B3 |
| - : | Complejo de 5 Oligoelementos |
| Benefits : | : |
| - : | Aumenta la respiración celular para estimular la actividad metabólica y la renovación celular |
| - : | Potencia considerablemente la función de la barrera de la piel, minimiza las imperfecciones e iguala el tono y la textura de la piel |
| - : | Revitaliza la piel apagada aportando un brillo sano, fresco y energizado incluso después de la primera aplicación |
| - : | Protege y repara el daño de los rayos UV; estimula y asegura una reparación sana del ADN causada por los rayos UV |
| - : | Ayuda a combatir el acné y las imperfecciones, controla el brillo y reduce los poros |
Use daily, day and night. Always apply to clean and toned skin. Depending on your preference Black Baccara Dynamic Boosters can be applied in two ways:
1. Pre-blended Application:
Apply 2 to 3 drops of each of your selected Black Baccara Dynamic Booster(s) to the palm of your hand. Next, add a small amount of your selected Black Baccara Bio-Adaptive Moisturizer. Mix well and spread the blend in an outward motion beginning from your forehead, nose and cheeks, working your way down to your chin, neck and décolleté until fully absorbed.
2. Layered Application:
Use one pipet of the Dynamic Energizing Booster and apply in an outward motion beginning from your forehead, nose and cheeks, working your way down to your chin, neck and décolleté until fully absorbed. Finish application with a gentle tapping motion. Repeat with any additional Boosters. Follow with your specified Black Baccara Bio-Adaptive Moisturizer.
Rare Black Baccara Bio-adaptive Concentrate: Creates an ideal micro-environment to protect against negative epigenetic factors (stress, lack of sleep, poor diet, etc.) that can lead to accelerated aging. Detects skin's exact needs and adapts to provide necessary protection against internal and external stressors. Regulates cellular "clock" that can be offset by our lifestyle ensuring cells function properly.
Active Oxygen: Lightens dark spots and reduces further darkening of very pigmented areas while providing an anti-acne effect, reducing the presence of inflamed pimples.
Tissue Respiratory Factor: Biotechnologically obtained from a selection of yeast. Improves cellular respiration, while providing smoothing, anti-inflammatory, soothing, and moisturizing properties.
Niacinamide B3: This potent ingredient protects and repairs against UV damage, erases dark spots and prevents new ones from forming, stimulates collagen synthesis, improves skin's elasticity, reduces the appearance of lines and wrinkles, deeply moisturizes, repairs skin's barrier, clears up acne, controls shine and refines pores.
5-Trace Element Complex: Comprised of Magnesium, Iron, Zinc, Copper and Silicium it provides cells with the necessary nutrients to maintain healthy skin. Deeply hydrates and maintains skin's barrier, aids in proper oxygenation of tissues, promotes protein formation and cellular turnover.