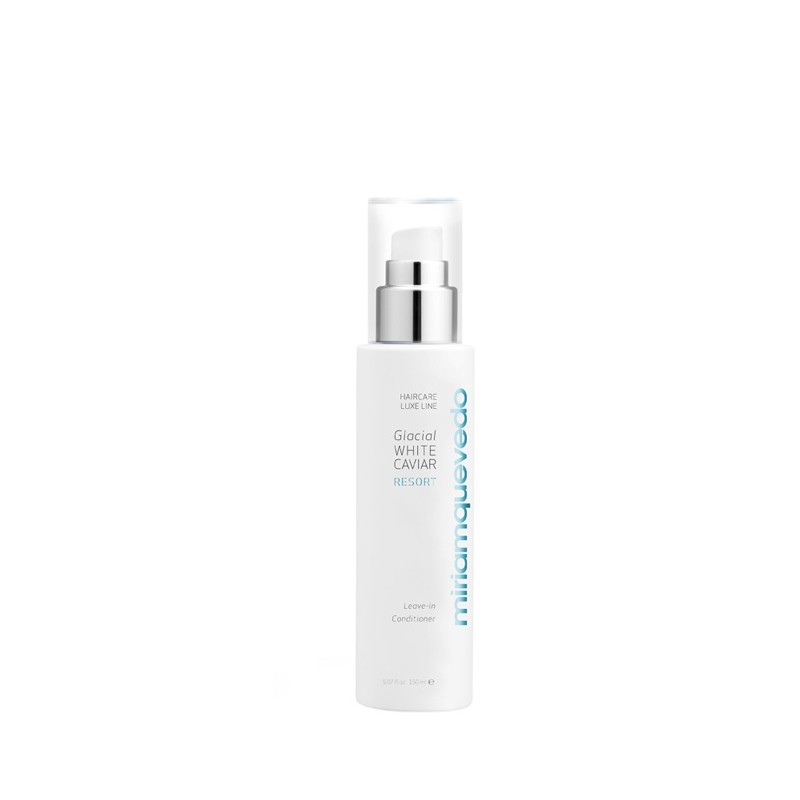 GLACIAL WHITE CAVIAR RESORT LEAVE-IN CONDITIONER
150 ml / 5.07 fl.oz
11510002
-1 Item Items
This product is currently out of stock
Warning: Last items in stock!
Availability date:
What it is:  A leave-in conditioner with a blend of precious oils and botanical extracts to address the specific needs of hair exposed to the elements (sun, wind, salt and chlorinated water).
What it does:  Its lightweight formula detangles, eliminates frizz and protects against heat and color fading, while advanced biotechnology penetrates the hair fiber with potent antioxidants, proteins, amino acids and peptides to repair, strengthen and protect from the inside out. Its instant barrier function locks in moisture for unprecedented hydration and anti-aging benefits.
Who it's for:All hair types. Ideal for those exposed to extreme environmental conditions and/or overexposed to the elements.    
What it's free of: Formulated without Sulfates, Parabens, Mineral Oils, Phthalates, Paraffin or Petrolatum.
Shake well before use. Spray on wet or dry hair and comb through. Apply as needed for protection and hydration. Do not rinse.
White Caviar Oil: Precious Oil. One of nature's best kept cosmetic secrets due to its richness in amino acids, proteins, essential fatty acids, trace elements and peptides. Creates a unique anti-aging lipo-protein complex, with powerful repairing, regenerative and protective properties.

Camellia Oil: Rich in vitamins A, B, E, D and trace elements. High antioxidant activity helps restore elasticity and softness.
Organic Baobab Oil: High antioxidant activity. Contains strong regenerating, soothing, conditioning, repairing and anti-inflammatory properties.

Encapsulated Swiss Glacial Water: Allows active ingredients to deeply penetrate the skin, increases cell resilience and survival at high temperatures. Protects from thermal aging and replenishes and maintains pure and continuous hydration.

Hyaluronic Acid Fraction: Unique combination of thousands of molecular weights mimic the hyaluronic acid found naturally in our skin. Draws water to hair creating a plumping effect. Acts as a membrane to prevent moisture loss from the scalp. High moisturizing power. Adds shine, increases elasticity and forms a protective film.

Complex of organic Edelweiss and Cotton flower extracts: High antioxidant activity. Natural photo-protector with anti-inflammatory and anti-bacterial properties. Hair color protector.

Scalp Hydrating and Calming Complex (Xylitol and Lactitol): Combats dryness, flaking and irritation. Immediate and long-lasting hydration. Regulates the flaking process and strengthens the cutaneous barrier.

Molecular Phyto-Complex derived from Chestnuts: 100% organic Phyto-complex (Castanea Sativa Fruits). Provides protection and repairing action. Nourishes and repairs aged hair effectively, including hair that has undergone several chemical treatments and long heat processes.

Betaine Amino-Acid: Essential for maintaining skin's natural water balance, retaining up to 40% of water. Provides comfort, reduces irritation and protects the scalp.

Vitamin E: Nourishes and revitalizes scalp and strengthens hair.

Panthenol: Provitamin B5 protects, moisturizes, softens and brightens hair.