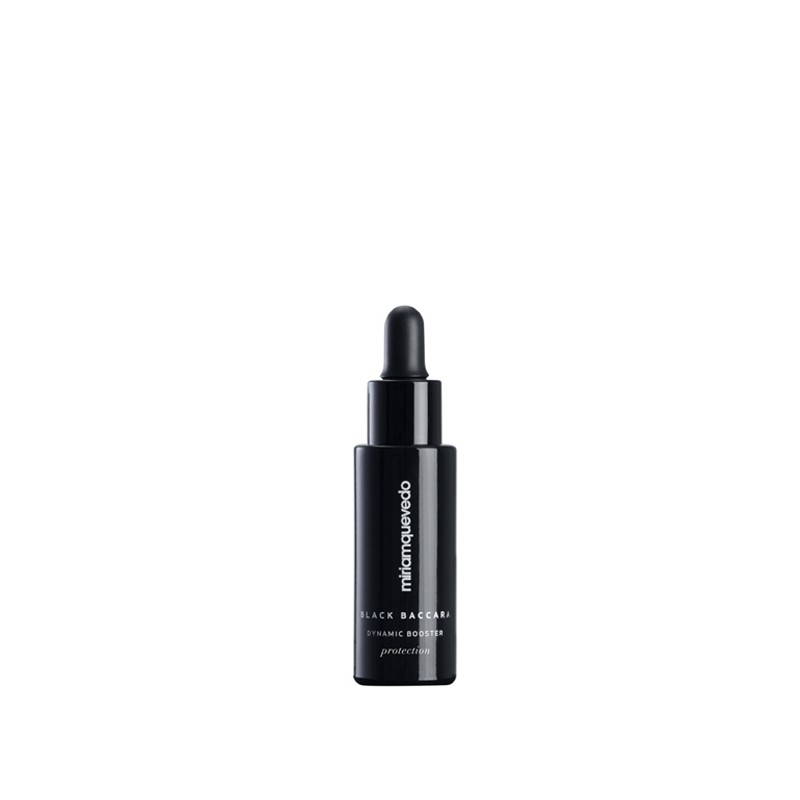 BLACK BACCARA DYNAMIC PROTECTION BOOSTER
30 ml / 1.01 fl.oz
MQ317
22 Item Items
Warning: Last items in stock!
Availability date:
What it is: Daily defense against premature aging.

What it does: This potent time-released vitamin and antioxidant complex acts as protective barrier against the internal and external causes of aging, blemishes and imperfections. Smart SKINutrients including Retinol-like Bakuchiol, Vitamin E-like Chromanol, Bioactive Vitamin C and Coenzyme Q10 are delivered in a cutting-edge, time-release delivery system to supercharge skin's natural defense and neutralize free radicals before they cause damage. Skin is visibly younger, radiant and full of life. 
Who it's for: For all skin types, especially those with: exposure to urban stress, pollution, dry climates and sun damage; lifeless skin; first signs of aging: lines, wrinkles and loss of firmness; pigmentations and irregular tone. 
| | |
| --- | --- |
| Ingredients : | : |
| - : | Rare Black Baccara Bio-adaptive Concentrate |
| - : | Cromanol (compuesto similar a la vitamina E) |
| - : | Vitamina C Bioactiva (Potente Ascorbilo Glucósido) |
| - : | Péptido de Coenzima Q10 Biomimético |
| - : | Bakuchiol (similar al Retinol) |
| - : | Aceite de Semilla de Rosa |
| - : | Alantoína |
| Benefits : | : |
| - : | La actividad antiradicalaria neutraliza los ROS y los RNS para proteger la piel del estrés oxidativo y del daño del ADN causado por la radiación UV y la contaminación |
| - : | Retrasa el proceso degenerativo de la piel y previene su envejecimiento prematuro causado por la inflamación, la descomposición de la matriz extracelular y el daño del ADN |
| - : | Potente acción anti edad que estimula la comunicación celular para aumentar la firmeza y la elasticidad de la piel y disminuir las arrugas |
| - : | Proporciona máxima hidratación, mejora la apariencia general de la piel, reduce rugosidades y mejora el tono de la piel |
| - : | Reduce manchas, minimiza cualquier signo de fatiga y deja la piel con un brillo sano y de aspecto fresco |
Use daily, day and night. Always apply to clean and toned skin. Depending on your preference Black Baccara Dynamic Boosters can be applied in two ways:
1. Pre-blended Application:
Apply 2 to 3 drops of each of your selected Black Baccara Dynamic Booster(s) to the palm of your hand. Next, add a small amount of your selected Black Baccara Bio-Adaptive Moisturizer. Mix well and spread the blend in an outward motion beginning from your forehead, nose and cheeks, working your way down to your chin, neck and décolleté until fully absorbed.
2. Layered Application:
Use one pipet of the Dynamic Protection Booster and apply in an outward motion beginning from your forehead, nose and cheeks, working your way down to your chin, neck and décolleté until fully absorbed. Finish application with a gentle tapping motion. Repeat with any additional Boosters. Follow with your specified Black Baccara Bio-Adaptive Moisturizer.
Rare Black Baccara Bio-adaptive Concentrate: Creates an ideal micro-environment to protect against negative epigenetic factors (stress, lack of sleep, poor diet, etc.) that can lead to accelerated aging. Detects skin's exact needs and adapts to provide necessary protection against internal and external stressors. Regulates cellular "clock" that can be offset by our lifestyle ensuring cells function properly. Clinical studies*
Chromanol (Vitamin E-like Compound): Dual scavenging capacity (ROS and RNS) to protect skin from oxidative damage preventing DNA damage induced by UV radiation pollution. Ensures firmness and slows cellular aging. Essential for collagen fiber and elastic connective tissue that gives skin flexibility. Clinical studies*
Bioactive Vitamin C (Powerful Ascorbyl Glucoside): Unique, time-release delivery system allows for absorption as needed. Promotes brightening, anti-aging and antioxidant activity. Improves skin's condition while inhibiting melanin production, resulting in a brighter, healthier complexion. Stimulates collagen and hyaluronan production. Bioactive Vitamin C provides free radical scavenging activity, inhibiting UV-induced DNA damage and reduces inflammation and cell toxicity. Clinical studies*
Biomimetic Coenzyme Q10 Peptide: Enhances skin's natural antioxidant defense and combats premature aging. Free radial scavenging properties prevent damage induced by reactive oxygen and nitrogen species (ROS and RNS). Diminishes the appearance of fine lines and wrinkles. Clinical studies*
Bakuchiol (Retinol-like compound): Reverses the aging process while protecting skin from further damage. Essential for maintaining skin's barrier function and integrity. Age-defying action is responsible for cell communication, leading to great improvements in firmness, elasticity, roughness, dryness and wrinkles. Clinical studies*
Rose Hip Seed Oil: Rich in essential fatty acids and antioxidants, it deeply hydrates and restores skin's barrier and protects against free radicals.
Allantoin: Increases cellular renewal and delivers high moisturizing, calming and soothing properties. Helps to restore skin's surface and diminishes skin imperfections and irritations. Provides healing action.
Related Products