Four travel kits to solve your packing conundrums
Posted on: 06/26/2019 09:36:52
Category: Style Guide
Welcome to our brand new blog! If you're after the low-down on the latest trends and treatment advice, you've come to the right place. Our monthly content will delve into the world of fashion, beauty, wellness, and lifestyle; sharing Miriam's exclusive tips, interviews with experts, and much more!
Arriving just in time for vacation season, it seemed only appropriate that our first post focus on solving your packing conundrums. Whether your plan is to jump in a car and escape the city for a long weekend, or fly to another continent for a couple of weeks, it's important not to weigh yourself down with bad packing choices.
Taking the best care of your hair and scalp never has to be an inconvenience… even when you're traveling! We have created four unique easy-to-pack travel kits containing a range of luxury products, each of which has been packaged in a bottle no larger than 100ml (so you can even sneak them into your hand luggage!).
Each kit has its own unique properties, enabling each individual to choose the haircare routine best suited to their hair type and lifestyle (or vacation itinerary), to ensure that they get the best results. To help you with your choice, here's a run-down of what each set offers.
Extreme Caviar Intensive Anti-Aging Set
The Extreme Caviar Intensive Anti-Aging Set is ideal for all hair types. It works to restructure broken down Keratin and restores hydration, strength, and elasticity to leave you with more vibrant, youthful-looking hair. Containing Alpha-hydroxy Acids, a natural blend of fruit and lactic acids, this set softens hair and makes it easier to manage, especially after a day at the beach or by the pool.
This set contains our Imperial Smoothing Shampoo, Conditioner Balm, and Restructuring Luxe Serum.
Sublime Gold Global Rejuvenation Set
The 24k Micronized Gold found in our Sublime Gold Global Rejuvenation Set rejuvenates hair and brings out vibrant gold highlights. Containing Organic Argan Oil, it works wonders for the scalp and leaves hair soft and shiny. The hydrating, smoothing, anti-irritant and antioxidant properties of orchid make this set ideal for those with normal to thick hair, especially if it's dry, damaged, dull or color-treated.
This set contains our Gold Shampoo, Gold Mask, and Ultrabrilliant Sublime Gold Lotion.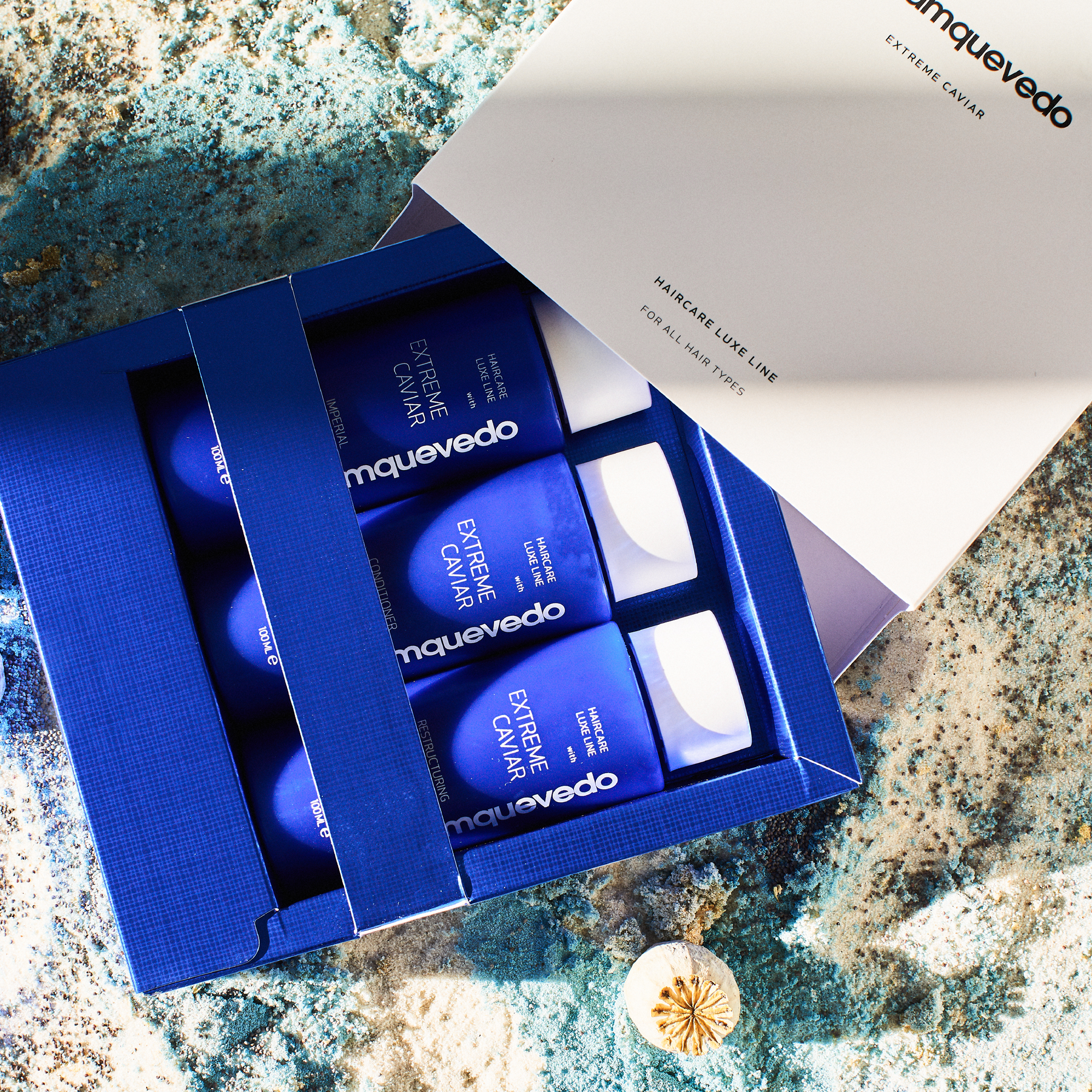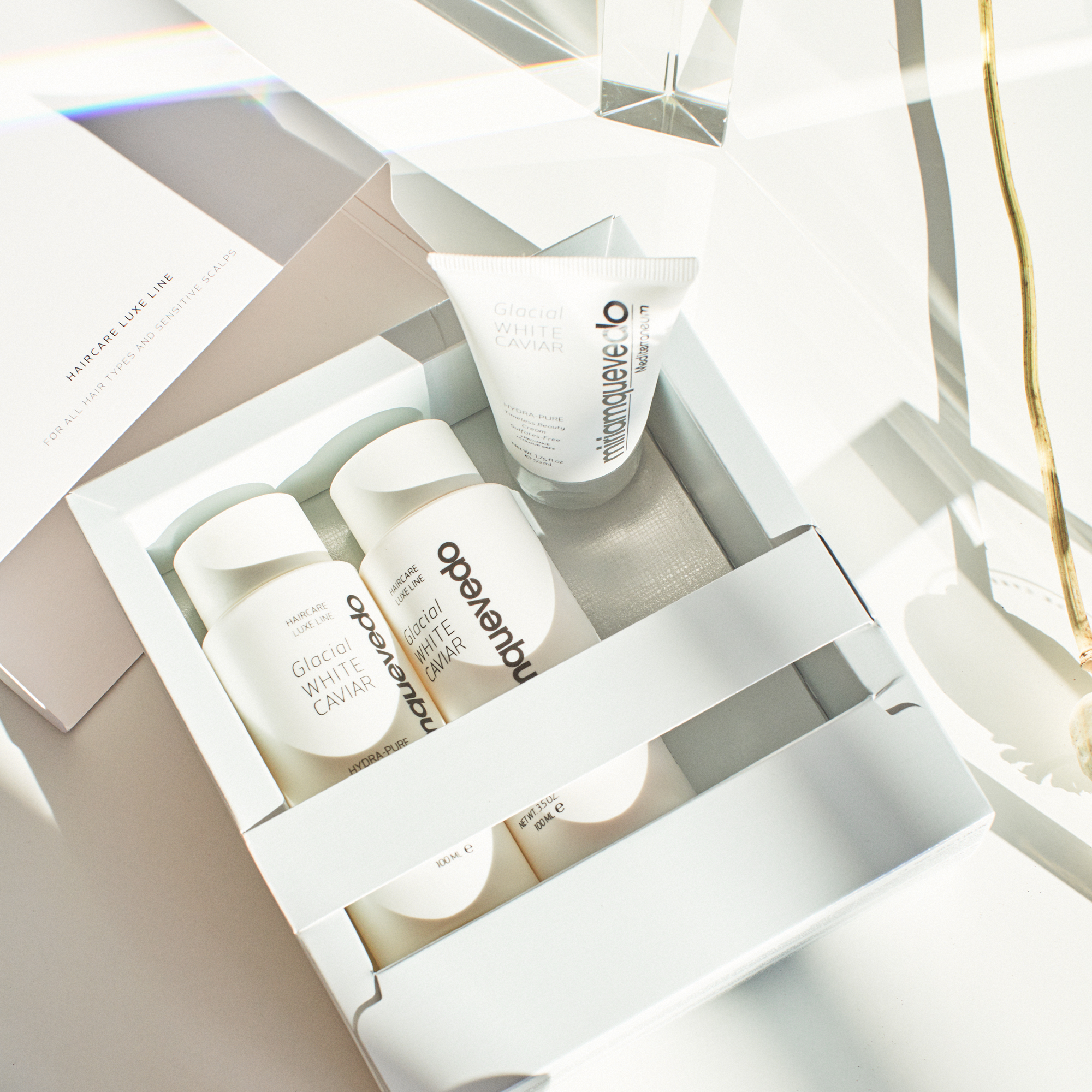 Platinum & Diamonds Global Rejuvenation Set
Powders made of precious stones and metals ensure that the Platinum & Diamonds Global Rejuvenation Set will nourish and moisturize your hair and scalp and create ultra-volume and body that has been lost over time. Ideal for normal to fine hair, this three-part anti-aging haircare routine will guarantee long-lasting Diamond shine.
This set contains our Luxurious Shampoo, Luxurious Mask and Luxurious Drops.
Glacial White Caviar Global Rejuvenation Set
This ultra-moisturizing, anti-aging treatment is ideal for those with sensitive, dry scalps and dry or damaged hair, as well as those who will experience increased exposure to extreme temperatures, salt water and/or chlorinated water. The Glacial White Caviar Global Rejuvenation Set contains Encapsulated Swiss Glacial Water, which protects skin from thermal aging and keeps it hydrated. Precious oils – White Caviar Oil and Organic Baobab Oil – boast ultra-regenerating, soothing, conditioning, repairing and anti-inflammatory properties.
This set contains our Hydra-pure Shampoo, Hydra-pure Rescue Masque and Hydra-pure Timeless Beauty Cream.
Wherever you will be spending your summer this year, don't go cutting corners when it comes to taking care of your skin and hair. Stay safe by protecting yourself from damage. And if you do end up spending long days out and about, opt for aftercare products which work to repair and rejuvenate. And most importantly, enjoy your trip! We will be back with more exclusive tips in a little over a week.
We're celebrating the launch of our blog, The Scoop, with a complimentary gift of some of our favorite Miriam Quevedo haircare products for summer! Use promo code: MQBLOG at checkout to receive this exclusive gift.*
Bon voyage!
* Valid from June 25, 2019 to July 15, 2019, or until supplies last.
Related Products
Share